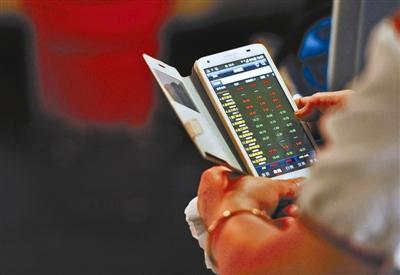 A stock investor checks the market on mobile phone. (Photo/Chinanews.com)
(ECNS) - Shanghai stock investors were the biggest earners on the A-share market in the first four months of this year, making an average of 156,400 yuan ($25,236), followed by Beijing investors, who earned an average of 80,200 yuan, the Beijing Youth Daily reported Monday, citing the latest data.
Since the beginning of this year, the key Shanghai Stock Exchange (SSE) Composite Index has jumped more than 40 percent, while the start-up board ChiNext Index has surged a skyrocketing 140 percent.
From January to April, 99.5 percent of the stocks on the A-share market were on the rise, with 98.9 percent bringing yields higher than bank deposits, according to data from the Hithink Royalflush Information Network Co, an online financial information site based in Hangzhou.
Of the 2,547 stocks, 1,465, or 58 percent, rose more than 50 percent, and 397, or 16 percent, jumped more than 100 percent in the first four months of the year, while only 14 fell, says Hithink Royalflush.
Investors in Zhejiang, Guangdong and Jiangsu provinces took 3rd, 4th and 5th positions in terms of earnings, with 36,900 yuan, 29,000 yuan and 18,400 yuan on average, respectively.
According to the China Securities Investor Protection Fund Corp, Chinese investors have remained confident in the stock market for 11 consecutive months since June 2014, with the April securities investor confidence index hitting 65.2, an increase of 26.6 percent year-on-year, but a slight drop of 7.5 percent compared to March.