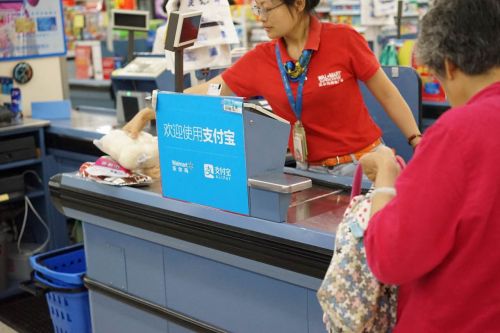 A sign with Alipay is seen in a Wal-Mart store. (Photo/Chinanews.com)
(ECNS) -- China's two popular mobile-payment systems Alipay and WeChat Wallet are both working closely with supermarkets and convenience stores to expand their market shares from online to offline, Yangcheng Evening News reports.
Wal-Mart has teamed with Chinese e-commerce giant Alibaba Group Holding Ltd to begin accepting the latter's Alipay mobile-payment system at its stores.
Wal-Mart's 25 stores in Shenzhen, South China's Guangdong province will be the first batch to adopt the popular payment method. Other stores are expected to join the trend in future.
Customers will get discounts ranging from five yuan ($0.8) to 15 yuan in their first shopping experience with Alipay.
Over 70 supermarkets and stores, including those owned by China Resources Vanguard Co., have allowed the use of Alipay.
Tencent Holdings Ltd, China's biggest social network and online entertainment firm, also announced to promote its WeChat messaging app mobile payment service.
WeChat Wallet inked a deal with Carrefour to have full cooperation in its stores.
Both Alipay and Wechat allow consumers to pay with a smartphone. Cashiers simply scan a bar code on the screen to make the transaction.