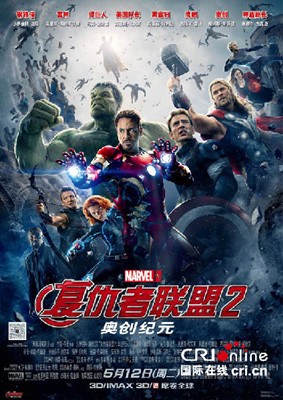 "Avengers: Age of Ultron" (Photo/CRI)
(ECNS) -- Marvels The Avengers: The Age of Ultron has picked up $338 million in two days, but has also landed itself in an unexpected war of words because of the translation quality in China.
Netizens have pointed out the obvious mistakes in the Chinese subtitles and blamed its translator Liu Dayong, Chinese language newspaper The Mirror reports.
The lines "I am Ordin's son" was translated into "My name is Ordins" and "Son of a bitch" turned into "odd buddies" in Chinese.
Wang Jinxi, a person responsible for the translation quality in the comic book adventure, said it's not fair to point fingers at Liu alone because the work is really heavy, under paid, and time pressed.
He added that Liu had been a senior translator in a number of Hollywood blockbusters before and that he was unhealthy following surgery a couple of years ago.
The translation of about 20,000 words was finished in less than 10 days by Liu's team, while the total cost was barely 2000 yuan ($320), according to Wang.