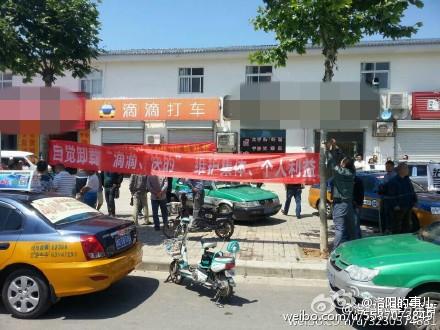 Taxies gather in Luoyang, Henan province. (Photo from Weibo)
(ECNS) - Offices of Kuaidi Dache and Didi Dache, China's two dominant taxi-hailing app companies, located in Luoyang, Henan province, have been raided by the city's industry and commerce authorities, a move hailed by local cabbies working for traditional taxi companies, according to a report posted by Caijing Magazine's website on Tuesday.
Chuzuzhidao, an information exchange platform on the social networking app WeChat, was the first to break the news of the raids, Caijing says. An insider at Didi confirmed the raids Tuesday afternoon.
According to Chuzuzhidao, a few months ago taxi drivers in the central Chinese city were required by regulators to uninstall all taxi-hailing apps. However, a cabbie from Luoyang suburbs was found still using them downtown on Monday morning by a local taxi driver, who then tracked and blocked the taxi with the help of his colleagues.
The discovery of an outsider still using taxi-hailing apps sparked anger among some of the city's taxi drivers, who are keen to safeguard their rights. This resulted in a large crowd of local cabbies protesting in front of Didi's Luoyang office. They demanded that Didi workers uninstall its hailing app on taxis not licensed in Luoyang, but their request was declined.
Later, police officers arrived at the site to maintain order, and local industry and commerce regulators investigated the incident and closed down Didi's office, taking away some staff and computers. The regulators then seized Kuaidi's office in the city.
A live video of the scene showed that a transport law enforcement officer seized a black Peugeot after finding that it was a private car illegally operating as a taxi.
Both Didi and Kuaidi have been under strict control by the local government, which has imposed a ban on their taxi-hailing apps for ordinary taxis and tailored taxi services, according to a source surnamed Song with Didi's Luoyang office.
Caijing reached industry and commerce authorities in Luoyang but did not receive any comment.
Earlier, U.S.-based taxi app provider Uber was probed by Chinese regulators on suspicion of operating illegally in Guangzhou and Chengdu. But Uber told Caijing that its China operations were normal, and that it had continued to expand.
A source with Didi told Caijing that while Uber was being investigated, Didi workers in Hangzhou were also asked questions by local government authorities.