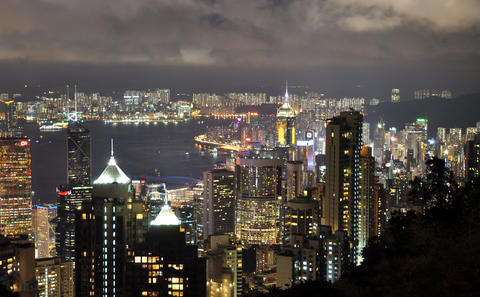 Night scene of Victoria Harbor in Hong Kong. (File photo)
(ECNS) -- Hong Kong has the worst price competitiveness for tourism in the Asia-Pacific region although it has moved up on the global tourism competitiveness list, caixin.com reports on Friday.
The World Economic Forum (WEF) released The Travel & Tourism Competitiveness Report 2015 on Wednesday.
Accordingly, the city of shopping ranks 127th among 141 global economies regarding price competitiveness, experiencing a 95-spot drop to the worst in the Asia-Pacific area.
Overall, HK ranks 13th in tourism competitiveness, up two spots from last year. In addition, it enjoys high rankings in air transport infrastructure (fifth), ground and port infrastructure (first) and business environment (second).
Average hotel expenditure by tourists in HK increased from $134.5 in 2013 to $229.5 in 2014, ranking 94th in the world.
HK has been losing popularity among mainland travelers. During the past Labor Day holiday, a considerable number only passed through the city on their way elsewhere, without conducting any major consumption activities.