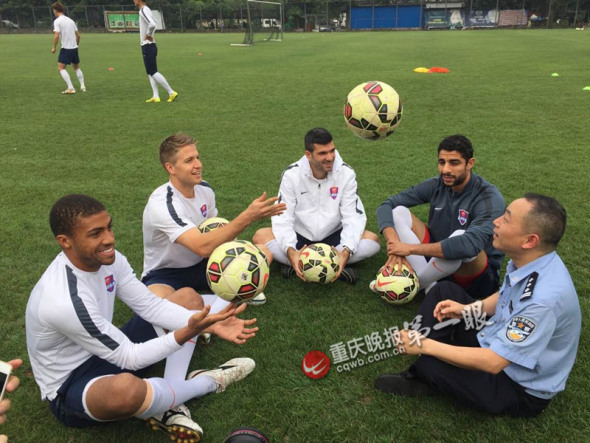 Bai Hua (R), a policeman in Southwest China's Chongqing municipality, talks with foreigners on a football field, May 6, 2015. (Photo/cqwb.com.cn)
(ECNS) - A policeman has became a role model in Southwest China's Chongqing municipality, not for nabbing criminals, but for learning English to better serve expats.
Bai Hua, 48, has worked as a traffic cop and with the criminal police. At 47, he was stationed in the Fuli Haiyang community in Jiangbei district, known for its concentration of foreigners.
The community is home to 265 foreigners from over 30 countries, including the United States, Britain, Japan, the Philippines, and Australia. It became almost routine for Bai to communicate with foreigners in his work, and initially the language barrier caused problems.
Bai decided to start learning English, having no prior background in the language. First, he compiled a 300-sentence book for police use, and then asked his son to translate it into English.
He also took community language classes designed for children to perfect his pronunciation, always sitting in the last row and ignoring the curiosity of his much-younger classmates.
His English skills have been very useful to some local residents, including an Indian businessman he helped reclaim $40,000 from an unrealized business deal.
His work to help a Singaporean woman also made headlines.