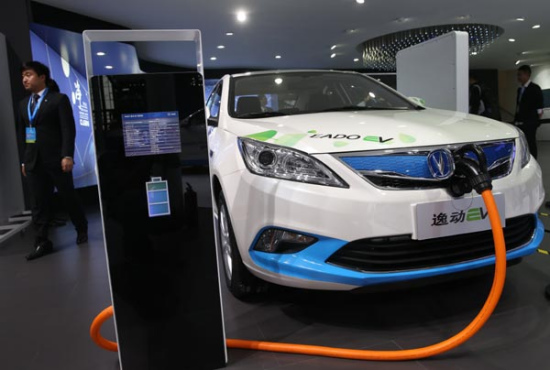 A Changan electronic car, one of the domestic brands, on display at the Shanghai auto show. China will gradually cut subsidies for new-energy cars starting from 2017 (Photo/China Daily)
(ECNS) - China will continue subsidies for new-energy vehicles until 2020, but will gradually cut the subsidies starting from 2017, a move that has put carmakers under pressure.
The Ministry of Finance (MOF) has introduced the policy in cooperation with the Ministry of Science and Technology, the Ministry of Industry and Information Technology, and the National Development and Reform Commission.
The MOF says in a statement on its website that the subsidies will take full consideration of emission-cutting results, manufacturing costs, the effects of scale, and technical progress.
Subsidies for new-energy vehicles will be reduced by 20 percent in 2017 to 2018 from that in 2016, and 40 percent in 2019 to 2020 from that in 2016, according to the statement.
The statement also sets standards for subsidies in accordance with driving capacities, with the largest amount at 500,000 yuan for electric buses or medium duty trucks, and the lowest at 25,000 yuan for electric vehicles.
Compared with the policy from 2013 to 2015, China has reduced the subsidy by 5,000 yuan for both pure electric-powered vehicles and plug-in hybrid electric vehicles.
Financial incentives and exemptions from registration restrictions, from central and local governments, have spurred a rise in new-energy cars in recent years. More than 74,600 new-energy cars were sold in China in 2014, an increase of 323.8 percent.
Wang Jian, a professor at Chongqing Jiaotong University, says the current subsidy policy is "neither scientific nor reasonable," because it goes against the goal of reducing emissions and gives little boost to enhancing energy efficiency.
Meanwhile, carmakers are worried that the policy may affect the market.
Cao Guangyu, the deputy general manager of Shanghai Auto City, a comprehensive auto production base, says new-energy cars cannot currently develop or achieve technology breakthroughs without the government's financial support.
The withdrawal of subsidies creates pressure for new-energy car manufacturers, and will also force companies to reduce costs through scale production, a source from BAIC Motor Group says.