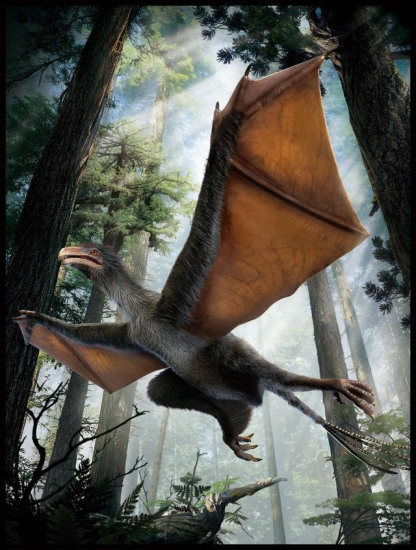 A restored picture of a "bat-shaped" dinosaur. (Photo/Guangming Daily)
(ECNS) -- Chinese paleontologist Xu Xing and colleagues have discovered a "bat-shaped" dinosaur fossil dating back 160 million years, according to Guangming Daily.
The dinosaur remains were found in Shangdong Province of east China and has been called Qiyilong, which means "dinosaur with strange wings". Its wingspan would have been approximately 60 centimeters and it would have weighed about 380 grams, according to Xu, from Beijing's Institute of Vertebrate Paleotology and Paleoanthropology.
The discovery was published in Nature on April 29.
The special bone structure of the dinosaur has captured the attention of experts. It has a rod-shaped bone approximately 13 centimeters long that extends from each wrist and could have helped to support wing membranes. Such a bone structure has never been seen in dinosaurs before.
The animal lived in the middle Jurassic Period. Its feathers resembled those of primitive animals instead of other dinosaurs or birds. Despite its wing structure, the dinosaur was not a competitive flyer and would only have been able to manage short air-borne trips between trees or down to the ground.