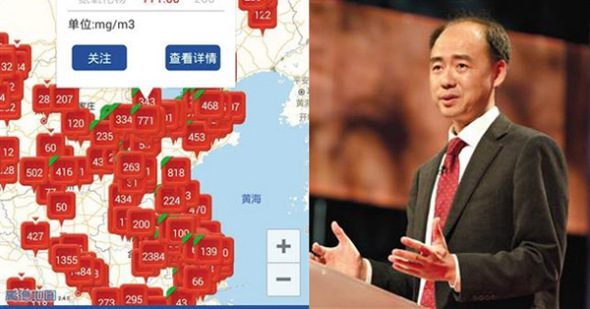 This combo photo shows environmental activist Ma Jun and his "Pollution map". (Photo/Beijing News)
(ECNS) - Environmental activist Ma Jun has become the first Chinese winner of the prestigious Skoll Foundation Award for Social Entrepreneurship for his 9-year effort to reveal pollution information in China.
In his home country he is still confronted by local government's resistance.
His dedication to a smart phone pollution mapping application has helped reveal industrial pollution and encouraged public engagement, the Beijing News reports.
The app called "Wei Lan Di Tu" (Blue Map) monitors air and water quality in 380 Chinese cities. It tracks pollution from over 9,000 industries across China, among which 2,000 have already dealt with their pollution problems. Thanks to the app, over 400 industries were forced to explain and reduce their pollution.
With over 3 million downloads, the app allows users to participate in environmental protection through the Internet. Once polluters are spotted, the public can report them to environmental authorities.
The app's funding mostly comes from Chinese foundations. It will receive 20 million yuan from the Society of Entrepreneurs and Ecology Foundation over the next five years.
Some local environmental authorities have been reluctant to interact with the public for various reasons, according to Ma, director of the Institute of Public and Environmental Affairs.
Yet overall, high-level agencies in particular, have been proactive. Ma said he believes society has a common enemy in pollution, instead of government or industries.
"Ten years ago, many people said China was poor and that development was more important than environmental protection, but now public awareness has changed," he said.
Even so, Ma said he has not seen a turning point in China's campaign against pollution, and that there are still more failures than successes.