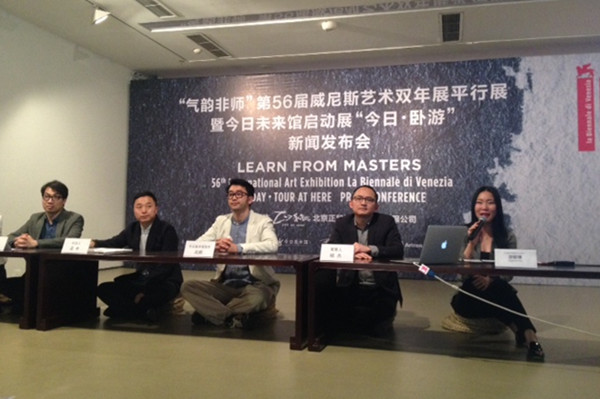 LEARN FROM MASTERS holds a press conference at Today Art Museum in Beijing on April 21, 2015. (Photo: ECNS/Qian Ruisha)
(ECNS) - LEARN FROM MASTERS, a collateral event of the 56th International Art Exhibition-la Biennale di Venezia, will open at Palazzo Bembo in Venice, Italy, on May 8, 2015.
A press conference was held Tuesday at the Today Art Museum in Beijing to mark the opening of the exhibition, which is one of three from China designated by the International Art Exhibition-la Biennale di Venezia.
Today Art Museum will hold an exact replica of the exhibition simultaneously.
The exhibition focuses on Chinese ink painting, and will present works of six masters in Chinese ink art history. It will restore their studies and also feature video documentaries.
Visitors can experience historical changes and contributions made by these masters, namely Gu Kaizhi, Fan Kuan, Ni Zan, Zhu Da and Wu Changshuo, as well as living artist Pan Gongkai.
Chinese ink painting, with a history of over 2,000 years, is known for brushwork that creates a subtle, complex, rich and profound cultural context.
Through these works, viewers can witness the developments of the history of Chinese painting, as well as the spiritual resonance of visual expression.