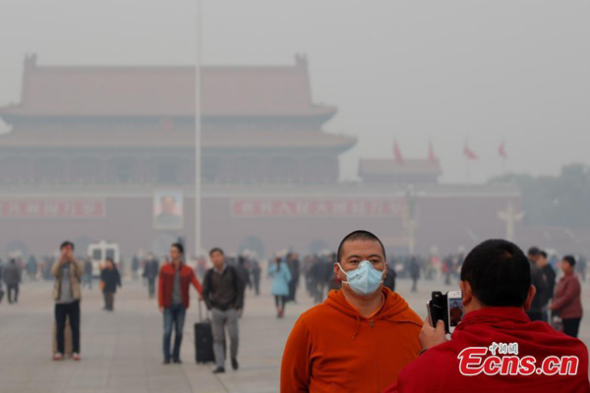 A man wearing mask poses for a photo amid heavy smog at Tian'anmen square in Beijing, November 19, 2014. (File photo/China News Service)
(ECNS) -- Beijing will step up pollution source monitoring, improve forecasting and early warnings on heavy air pollution days, and put 200,000 new and clean energy vehicles into use by 2017 as part of a blue sky campaign, the municipal government said at a press conference on Monday.
The Beijing municipality enforced an innovation action plan last April in a bid to accelerate the industrial application of technological research achievements, and promote the use of new products.
Zhang Guanglian, deputy director of the Beijing Municipal Science and Technology Commission, said the blue sky campaign is one of the 12 major special initiatives set out in the action plan. It will focus on studying air pollution causes, early warning and forecasts; clean and efficient utilization of energy; promotion of new and clean energy vehicles; and technologies for preventing sources of heavy pollution as well as their pilot application.
By 2017, Beijing will set up a dynamic, highly-accurate pollution source and emission monitoring system, and also improve the accuracy of forecasting and early warning for heavy pollution. The city plans to put 200,000 new and clean energy vehicles into use by then, cut industrial volatile organic compound emissions by about half, and significantly reduce furnace nitrogen oxides emissions, Zhang added.
Shi Aihua, a researcher with the Beijing Municipal Environmental Monitoring Center, said air pollution in Beijing, the nearby city of Tianjin, and Hebei province features regional compounding effects. He added that Beijing's air quality is largely influenced by that of the region, which adds difficulties to forecasting the city's air quality.
According to Shi, a study that lasted more than two years showed that Beijing's PM2.5, or particulates of less than 2.5 micrometers, exceeded the standard by 1.5 times on average, with regional cooperation needed in order to win the fight against air pollution.
Also on Monday, the municipal government unveiled 10 technological achievements for the blue sky campaign, including air pollution cause analysis and forecasting technology, wireless charging for electric vehicles, and oil and gas recycling equipment.
According to Wang Lifang from the Institute of Electrical Engineering of the Chinese Academy of Sciences, wireless charging technology is safer and more convenient compared to current methods. The technology, being applied to BAIC Motor's E150EV, is still in the research and development phase. A leasing program is being researched to promote its use in the second half of the year, it was added.