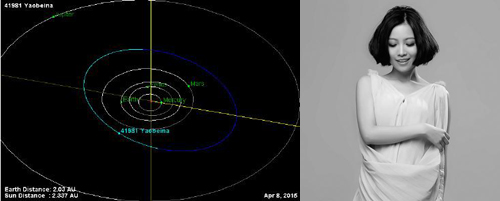 This combo photo shows Asteroid NO. 41981 and Chinese singer Yao Beina. The asterioid was named "Yaobeina," according to a recent announcement by IAU.
(ECNS) -- The International Astronomical Union (IAU) has named NO. 41981 asteroid Yao Beina after a Chinese singer.
IAU, the world's largest professional body for astronomers, said Yao Beina was a brave Chinese vocalist, who won several awards for her brilliant achievements in pop music.
A song by Yao tells the story of her fight against breast cancer. She subsequently donated her cornea upon her death.
The asteroid was discovered on December 28, 2000 by Yang Guangyu, an amateur astronomer from Hong Kong.
Its elliptic orbit between Mars and Jupiter was finally proven on March 9, 2015. The asteroid is too small to be seen by the naked eye and can only be observed through a telescope.