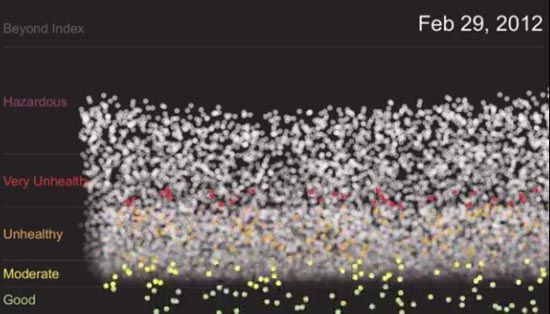 This pictrue shows data of Beijing's air quality recorded by American musician Brian Foo in the past three years. (Photo/ China Youth Daily Online)
(ECNS) - American musician Brian Foo has created a song using Beijing's air quality data from the past three years.
The composition is entirely algorithmic and Foo did not manually compose any part of it, according to his website.
The New York City programmer and visual artist tracked Beijing's fine particulate matter (PM2.5) readings on a daily basis over the past three years. Using them as notes, he created a piece with music samples from American industrial rock band Nine Inch Nails. The higher the pollution reading is, the longer the note lasts.
Also, as PM2.5 and other harmful particles accumulate in the air, new musical instruments are added. As the amount of particulate matters grow, more kinds of instruments join the composition. When pollution peaks, the melody is lost in a flood of sounds made by the instruments, leaving the listener feeling oppressed and suffocated.
The music resembles the sound of "knocking on stools or tables" and is surprisingly shocking and moving, some Chinese music lovers who have heard the song have commented.