Expats' startup offers $33 air purifier for smog-choked China
2014-10-28 17:00 Ecns.cn Web Editor: Qian Ruisha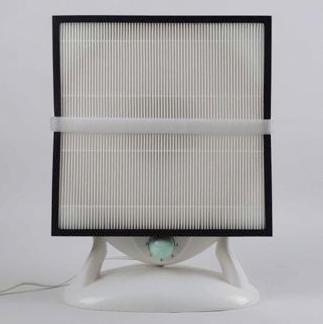 The $33 air purifier. (Photo courtesy of Smart Air)
(ECNS) -- A startup founded by an American student has been providing a cheap alternative to expensive air purifiers often priced at thousands of dollars.
In January 2013, Thomas Talhelm, a PhD student at the University of Virginia, hand-made an air purifier with a household fan, a strap and a high-efficiency particulate air (HEPA) filter he bought online. After posting the particle counting in his blog, orders for the parts began to pour in from acquaintances, which prompted Talhelm and his friends to set up a business called "Smart Air."
When Talhelm returned to his studies in cultural psychology, his friend Gus Tate, an American student at Beijing Normal University, took over, selling the kit at 200 yuan ($33) and running workshops in cities such as Beijing, Shanghai and Harbin.
Smog has been a constant reoccurrence across China over the past couple years. Health-conscious consumers have to turn to expensive purifiers to fight off PM2.5, the main pollutant in the air.
Tate said the business was meant to lower consumer costs. He noted that companies are making lots of money because few people understand the simple trick behind air purifiers.
Data on the company's website show that the DIY purifier could remove over 90 percent of the PM2.5 in a room, only marginally lower than big brands such as Blue Air and Phillips.
The company is able to rake in to 30,000 yuan ($6,000) a day on smoggy days.
Although the revenue is just enough to cover costs, Tate said the business is not aimed at making money, but becoming a social enterprise that provides good products and reliable information.