Tesla promises to adjust to China's charging standard
2014-07-25 15:51
Ecns.cn
Web Editor: Gu Liping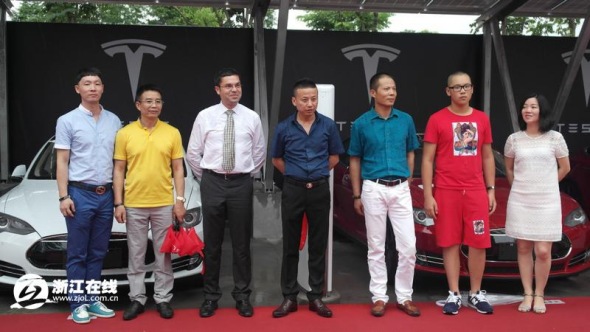 Jerome Guillen, Tesla's vice president of worldwide sales and service, and customers in Hangzhou pose for photos on July 24, 2014. [Photo: Zjol.com.cn]
(ECNS) -- US luxury electric car maker Tesla has made its position known for the first time that it will adjust to China's national standard once it is released, the Economic Observer reports.
Jerome Guillen, Tesla's vice president of worldwide sales and service, said in an interview in Hangzhou that "Tesla will carry out business in China following the country's charging standard. But the standard hasn't been released, and as a technology-driven innovative company, Tesla can't stop and wait."
Once the standard is enforced, we will adjust the technology to it, he added.
Tesla delivered the first batch of eight vehicles to customers in Hangzhou on Thursday. Jerome Guillen and Veronica Wu, vice president of Tesla's China operations, attended the delivery ceremony.
Wu announced that the first supercharging station in Hangzhou, the sixth in China, has been launched. The most important task for Tesla in China is building repair centers and supercharging stations, she reiterated.
Destination charging services are another part of Tesla's network. Insiders said 5,000 destination charging poles will be added in Shanghai by the end of 2015.