Bite open your beer: 'Suarez bottle opener' hits Taobao
6月25日凌晨,乌拉圭对阵意大利的比赛中,乌拉圭名将苏亚雷斯与意大利基耶利尼正在禁区抢位,其间,苏亚雷斯用牙撞了基耶利尼左肩。苏亚雷斯这一行为被认为是用牙咬人,赛场上意大利球员扒开球衣露出牙印的照片很快成为球迷们的热门话题。在球迷的热议声中,苏亚雷斯张开大嘴的形象也被设计成一款啤酒开瓶器出现在国内和国外的购物网站上。
[查看全文]
2014-06-26 13:31
Ecns.cn
Web Editor: Gu Liping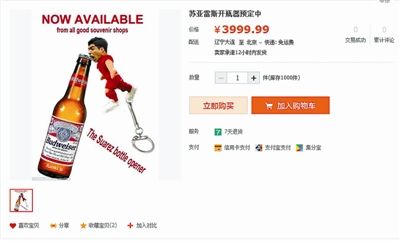 The Suarez bottle opener is sold on Taobao.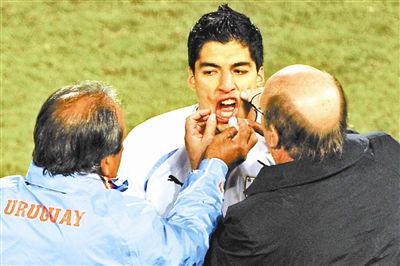 File photo of Luis Suarez.
(ECNS) -- Chinese business owners have quickly begun stocking "Suarez bottle openers" in online shops after Uruguayan footballer Luis Suarez appeared to bite an opponent's shoulder during Tuesday's World Cup match against Italy.
A search for the item on Wednesday returned more than twenty results on Chinese's largest online market Taobao, with prices ranging from 888 yuan to 9,999 yuan ($142 to $1604). Some had already been added to customer watch lists.
Vendors are all using the same promotional photo, which shows a caricature of Suarez opening a beer bottle with his teeth.
Ouyang, one of the vendors who claimed to have designed the photo, said the idea came from a friend who is also a soccer fan.
However, the product is not yet available, she said. "We are preparing for manufacturing, and consumers who like the design can follow us."
She said the main problem concerns the portrait copyright.
The item is priced 3,999.99 yuan in her online shop, but Ouyang said the real price will not be as high after the product hits the market.
Two of the same items were found on US rival eBay, offered by sellers from China and Hong Kong.