Shenzhen to allocate $385m to deal with road cave-ins
2014-05-16 17:08
Ecns.cn
Web Editor: Yao Lan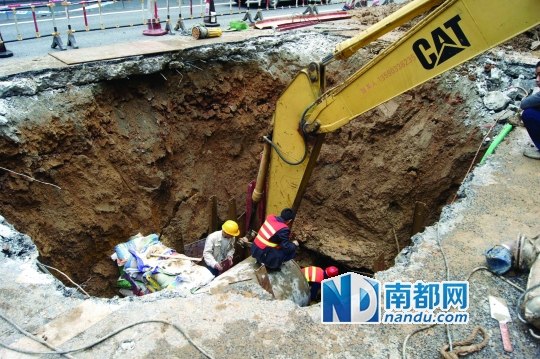 Photo taken on April 3, 2014 shows workers repair road damaged by a ground subsidence accident in Shenzhen, Guangdong province. (Photo source: nandu.com)
(ECNS) -- The municipal government of Shenzhen, Guangdong province, plans to pour 2.4 billion yuan ($385 million) in three years to deal with ground subsidence emergencies and hidden risks.
The city has set up a "land subsidence administration," the first official department in the country specially designed for the control and prevention of land subsidence accidents, Southern Weekly said on Friday.
As a special economic zone, Shenzhen has witnessed massive construction of buildings and infrastructure in past decades. The skyrocketing development has brought about not only economic benefits and conveniences, but also challenges and risks. The booming southern Chinese city felt the urgency to deal with hidden cavities after six people were killed in more than 200 land cave-in accidents in 2013.
Massive construction projects with potential safety hazards are a major contributor to these accidents.
To wipe out hidden cavities, the land subsidence administration was set up as an emergency department in August 2013.
Liu Yonggen, director of the administration, said that one of the major functions of the agency is to handle incidents related to cave-ins in the city.
The department will serve as a coordinator between other municipal departments when such incidents occur.
Checking out hidden risks behind land subsidence is also a major task of the department, Liu said.
In 2013, a total of 621 hidden dangers were found in inspections over roads reaching a length of 6,000 kilometers, and 591 of the risks were eliminated.