Love of instant noodles gets guy into US college
爱吃泡面能被美国名校录取,福州一中一名高三男生真的做到了。 这名王同学尝遍各国泡面,这次申请美国学校时,他把这段经历加了进去,还真被美国罗切斯特大学录取,招生官说录取是因为他对泡面的狂热。
[查看全文]
2014-04-02 16:45
Ecns.cn
Web Editor: Yao Lan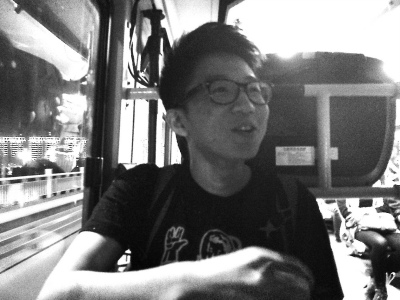 A high school student in Fuzhou, Fujian province, has been admitted by a university in the US, thanks in part to his appetite for instant noodles.(Photo source: Southeast Express)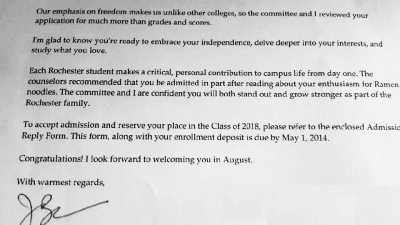 A photo of Wang's admission letter posted on Sina Weibo. (Photo source: Southeast Express)
(ECNS) -- A high school student in Fuzhou, Fujian province, has been admitted by a university in the US, thanks in part to his appetite for instant noodles, Southeast Express said on Wednesday.
Wang, a senior at Fuzhou No. 1 Middle School, is a big fan of instant noodles. He never thought that his appetite would contribute to his admission to the University of Rochester in the US.
Wang said he was admitted after he wrote about his love of snack noodles in his application to the school.
After he was accepted, Wang posted the admission letter on Sina Weibo, which read, in part: "The counselors recommended that you be admitted in part after reading about your enthusiasm for ramen noodles. The committee and I are confident you will both stand out and grow stronger as part of the Rochester family."
Wang said he has enjoyed eating instant noodles from an early age, and his love of the food started out with a local-brand noodle from Singapore.
"I tried the noodles during my trip to the country, and my world changed the moment I ate it," Wang said.
As a fan, Wang claims that he has tried nearly all flavors of noodles from Asian brands, ranging from Master Kong of Taiwan to the Japan-based Nissin.
An education expert explained that educators in Western countries have a long tradition of focusing on their students' personalities. Wang's special hobby brought a sense of novelty to the admissions officer at the school.