5-ton fish caught in net may be endangered whale shark
2014-03-28 16:49
Ecns.cn
Web Editor: Yao Lan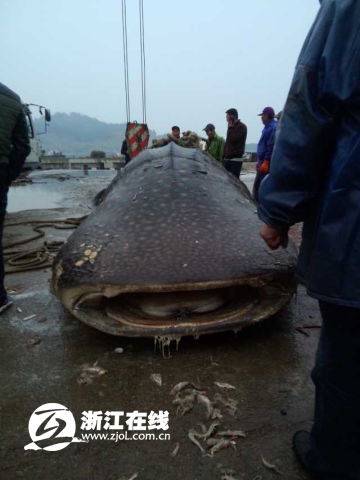 A fisherman in Wenzhou, Zhejiang province, caught a giant 5-ton fish suspected of being an endangered whale shark, cri.cn reported on Friday.(Photo source: zjol.com.cn)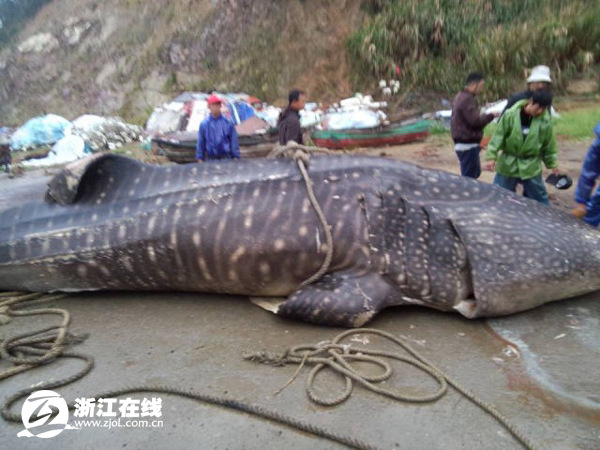 A fisherman in Wenzhou, Zhejiang province, caught a giant 5-ton fish suspected of being an endangered whale shark, cri.cn reported on Friday.(Photo source: zjol.com.cn)
(ECNS) -- A fisherman in Wenzhou, Zhejiang province, caught a giant 5-ton fish suspected of being an endangered whale shark, cri.cn reported on Friday.
A local resident said the fish looks like a whale shark, a kind of gentle and slow-moving shark and the largest known extinct fish species.
Regulation states that whale sharks, as a kind of endangered wild animal, should be set free if caught by fishermen. People are also banned from selling it, even if the shark is dead. Those who violate the regulation may face punishment.
An official from the local fishing department said an investigation was launched to see whether the fish is indeed a whale shark.
The fisherman surnamed Zeng said he caught the fish by accident in the sea area near Dongtou county of Wenzhou on Wednesday evening, as the fish swam into his net along with the stream.
Zeng said he and other fishermen didn't see the fish until they dragged it ashore.
With spots and bands on its skin, the fish features a flat head and a wide mouth. It died soon after being pulled ashore. Zeng said he sold it at a low price.