Baidu staff, web censor profited by deleting unfavorable posts
删一条帖子500元至2000元不等,每月结一次账,直接通过网上银行转钱……公关公司主动出击搜寻政府、企业负面信息后,再通过相关网站的工作人员进行删帖,并支付一定费用。在此过程中,公关公司还成功拉拢到了一名北京市公安局网安总队的民警。记者近日获悉,至2012年,上述涉案人员至少十余人被控制。
[查看全文]
2014-03-26 16:11
Ecns.cn
Web Editor: Gu Liping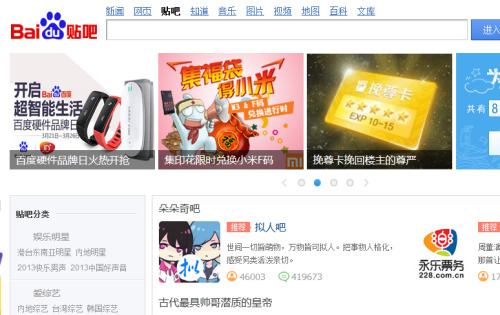 Screenshot of Baidu Tieba.
(ECNS) -- Beijing police have detained at least 10 people, including employees at Baidu, the leading Chinese-language Internet search provider, over allegations of abusing their positions to delete online posts in return for money, the Beijing News reports.
The newspaper cited several cases since 2012 by the city's police bureau, which has exposed a profit chain connected to a web censor at the Beijing Municipal Public Security Bureau.
Xu Ning, an administrator at Baidu Tieba, an online community bound tightly to Baidu's Internet search services, was found to have taken 67,400 yuan ($10,856) for deleting more than 300 posts in collaboration with Lv Longwei, who once worked at Baidu.
A PR company has also profited from deleted posts. It was launched in 2010 by a former Baidu employee surnamed Gu.
His staff searched for unfavorable posts about enterprises and government departments, then charged hundreds of yuan to delete the posts.
From 2010 to 2012, Gu deleted 2,000 posts on Baidu, 500 on the news website Sohu and 20 posts on qianlong.com. More than two million yuan was involved.
The posts covered a wide range of issues, including forced demolitions, pollution problems, extramarital affairs and bribery by officials, as well as product quality and companies in financial crises, according to Gu.
An Internet policeman (web censor) surnamed Liu at the Beijing Municipal Public Security Bureau was also dragged into the mire. He was found to have accepted 770,000 yuan from Gu and 150,000 yuan from others for deleting posts.