Eaters on Beijing subway could face $80 fine
北京市人民政府法制办公室公示北京市轨道交通运营安全条例(草案)的征求意见稿。草案规定,乘客在轨道交通电梯、通道和车厢内饮食最高可罚500元,另外,导盲犬佩戴导盲鞍和防止伤人的护具后可以随主人进地铁。
[查看全文]
2014-02-19 15:12
Ecns.cn
Web Editor: Yao Lan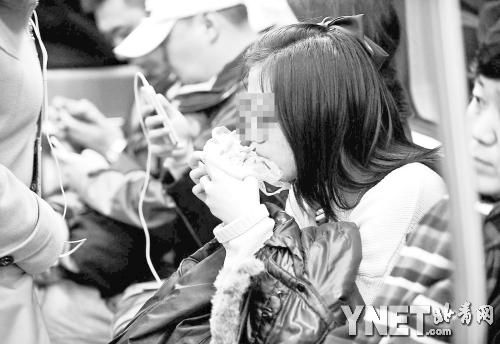 A passenger is eating food on a subway car in Beijing. (Photo source: YNET.com)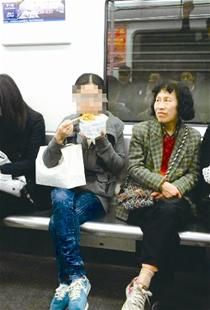 A woman is eating noodles on a subway train in Wuhan, Hubei province. (Photo source: Sina.com.cn )
(ECNS) -- Beijing is on track to introduce a ban on eating and drinking in its subway carriages, and violators could face fines of up to 500 yuan (US$82 US), the Beijing News reported on Wednesday.
The new rule has been included in a draft released by the Legal Affairs Office of the Beijing municipal government on Tuesday.
Article 44 of the draft lists eating and drinking as "forbidden acts" in subway carriages, as well in elevators and passageways in subway stations. Offenders could face fines between 50 to 500 yuan.
Several Chinese mainland cities - including Wuhan in Hubei Province and Nanjing in Jiangsu Province - already ban eating and drinking in subway carriages, with offenders facing fines of up to 200 yuan.
With the aim of improving management of the city's rail transport network, the regulation is still in its consultation stage. Residents of the city can offer advice and make suggestions on the official website of the Legal Affairs Office.
The new regulation also bans people from distributing campaign flyers or selling products on subway cars.