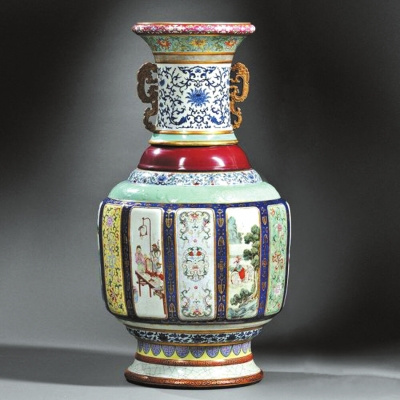 The Fencai vase illustrates the most complicated ceramic techniques employed by Jingdezhen imperial porcelain makers. (Photo: Beijing Times)
(ECNS) ? One of the world's two monumental Fencai (meaning "soft colors") vases has been auctioned for $22 million, sparking debate about whether the price is justified.
At an auction held by Skinner in Boston on Sept. 18, a person from the Chinese mainland beat three other Chinese bidders to acquire the vase.
Known as the "king of porcelain" for its rarity and complicated design, the vase was believed to be made for the Qianlong Emperor (1711-1799). It was formerly part of a collection belonging to Ton-ying and Co., set up in 1903.
Before it appeared at the auction, the world believed only one such vase existed. That one is sitting in Beijing's Imperial Palace Museum with a tag saying "Having no equal in the world; extremely valuable."
The two vases are 99 percent similar, according to experts. Having exquisite floral and landscape designs, the 86-centimeter-tall vases illustrate the most complicated ceramic techniques employed by Jingdezhen imperial porcelain makers. They required multiple firings with fifteen different glazes and enamels.
Lv Chenglong, deputy director of the ancient artifacts department at the Palace Museum, said the two are likely to be twins. If so, the price is "justifiable," he said.
"It's safe to say that with such extreme rarity and importance, the vase could by no means be sold cheap," he added.
Zhai Jianmin, a Hong Kong collector who attended the auction, also called the price "reasonable."
"For 40 years in this industry, I've only seen one such vase, and it was through a glass box in the Palace Museum," Zhai said. "The appearance of this vase is very rare, and the price I was thinking was $22 to $25 million."
However, some experts have noticed some fixes and cracks on the vase, and say the price could have been lower.
Seasoned artifacts expert Liang Xiaoxin said that given the unstable market and the imperfection of the vase, he was expecting about $10 million. But still, for a masterpiece of such rarity, the price is fair, he said.