Breakup app helps Renren users virtually erase exes
人人网网友谢梦非开发出一款名为"人人网分手器"的插件,使用该插件后,可以快速删除两人在人人网上的一切互动,甚至可以"拉黑"对方。
[查看全文]
2013-08-16 15:59
Ecns.cn
Web Editor: yaolan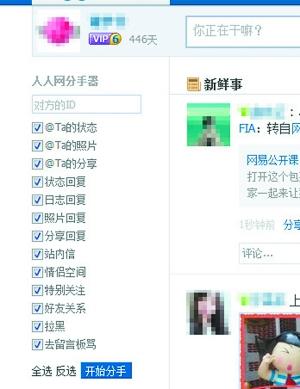 (ECNS) -- A free online application designed to help users of social networking site Renren erase all online traces of their ex-partners has become an Internet hit.
For most post-90s, who are active on social networking sites, breaking up in real life may be easier than removing all traces of an ex-partner from their virtual life.
The "Renren breakup app" has become a hit among young people who tend to display their romantic lives on social networking sites. Click "start breakup," and the honey-sweet words and photos of the one you ditched, or who ditched you, will be removed.
The app was developed by Xie Mengfei, a computer science major at Wuhan University in Central China's Hubei province.
Xie introduced the app in a blog posted on Renren on Tuesday, which was also Qixi Festival— the traditional Chinese Valentine's Day.
"With the app, you can have an easy breakup," Xie said. "By clicking on 'start breakup,' you can un-follow your ex-partner and delete his or her comments under your weblogs and photos."
Xie had created other apps before, including some that help students inquire about exam results, or find nearby toilets.
The app can be downloaded from Renren, the Facebook-like social networking site in China.