"嫦娥二号"飞往1千万公里外探测小行星
中国科学院院士、探月工程领导小组高级顾问欧阳自远10日透露,"嫦娥二号"卫星已于今年4月15日受控飞向距离地球大约1000万公里的太阳系空间,择机开展对4179号小行星的探测,为未来的小天体探测积累经验。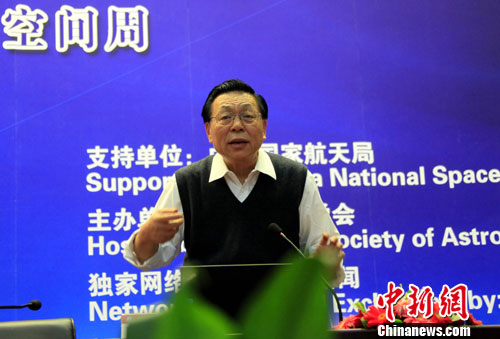 Ouyang Ziyuan, an academician and senior advisor to the leading group of the Lunar Orbiting Exploration Project, adresses a report at a symposium held in Beijing on Wednesday to mark "World Space Week." [Chinanews.com]
Beijing (CNS) – China's unmanned lunar probe the Chang'e 2 departed from the Sun-Earth L2 point on April 15 and is now en route to the asteroid 4179 Toutatis, according to Ouyang Ziyuan, an academician and senior advisor to the leading group of the Lunar Orbiting Exploration Project.
Ouyang made the remarks at a symposium held in Beijing on Wednesday to mark "World Space Week."
At 4.6 kilometers long and about 700 million kilometers from Earth, the Toutatis is a potentially hazardous object to the planet, he said. If a collision happened, it would produce the equivalent of one trillion tons of explosives, or 50 million Hiroshima atomic bombs, he added.
Ouyang also said that China's solar system exploration until 2030 would use the exploration of Mars as an entry point, followed by the sun, asteroids, Venus and Jupiter.
The Chang'e 2 was launched on October 1, 2010, entered orbit around L2 on August 25, 2011, and began transmitting data from its new position in September 2011.