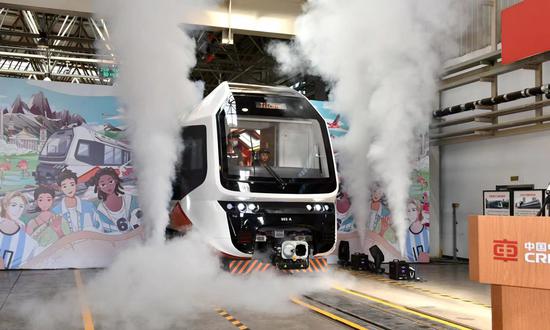 A new-energy light rail train made by CRRC Tangshan rolls off the production line in Tangshan, North China's Hebei Province, on June 6, 2023. (Photo/Courtesy of CRRC Tangshan)
CRRC, China's top train manufacturer, said it has been officially awarded a contract to build electric units for Chilean State Railways, also known as EFE, the largest single stock order in the Chilean company's history.
CRRC, in a consortium with local railcar services company Temoinsa, will supply 32 three-car units for Santiago's suburban rail network.
These new trains are an upgrade for EFE, CRRC said, noting that the trains will have a maximum speed of 140 kilometers per hour and capacity for around 800 passengers. The design of the units will emphasize lightweight construction, intellectualization and eco-friendliness.
Of the 32 new trains, 22 will be deployed to operate on the new 61 kilometer commuter line running westward from Alameda station in Santiago to Melipilla, with the remaining 10 ordered for the new route running north from Alameda to Quinta Normal and Batuco, the International Railway Journal reported.
Deliveries are expected to start in 2026. After entering operation, the new trains will greatly improve the EFE's passenger transport capability and providing transport convenience for more than one million residents along the route, according to CRRC.
The smooth implementation of the project will play an active role in the high-quality joint development of the Belt and Road Initiative, bringing convenience to local residents and boost local economic and social development, CRRC said.
The new fleet forms part of EFE's strategy to triple passenger traffic to 150 million passengers a year by 2027. The new commuter service to Melipilla is expected to carry 57 million passenger a year, and that to Batuco a further 35 million, according to the International Railway Journal.