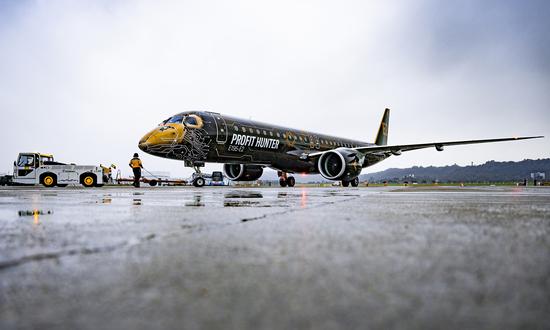 The E195-E2 aircraft (Photo/Courtesy of Embraer)
Embraer E195-E2, the largest member of the E-Jet family, has been granted a Type Certificate by the Civil Aviation Administration of China (CAAC), paving the way for sales in the Chinese market.
This follows the certification of the E190-E2 issued by the CAAC in November last year, during the Zhuhai Air Show.
According to Embraer's latest 20-year market outlook published in June, the Asia Pacific region including China is expected to maintain a strong growth rate, increasing its Revenue Passenger Kilometers by 4.4 percent annually over the next 20 years. The need for flexibility, complementing narrow-body aircraft, is driving demand in the up-to-150-seat segment in China.
The E195-E2 is the right size to profitably complement larger narrow bodies on lower density routes, connecting regional airports and offering travelers living in second and third tier cities with improved access to routes worldwide, according to Guo Qing, Managing Director and VP Commercial Aviation with Embraer China.
Last November, the Embraer E195-E2 'TechLion' visited China and made its debut at the Zhuhai Airshow, exhibiting its capabilities to China's aerospace leaders.
The E195-E2 entered service in 2019 with Azul. As the largest member of the E-Jet family, E195-E2 accommodates between 120 and 146 passengers. It is the most fuel-efficient single aisle aircraft flying today, delivering 25 percent improved fuel efficiency per seat, compared to previous generation E-Jets.