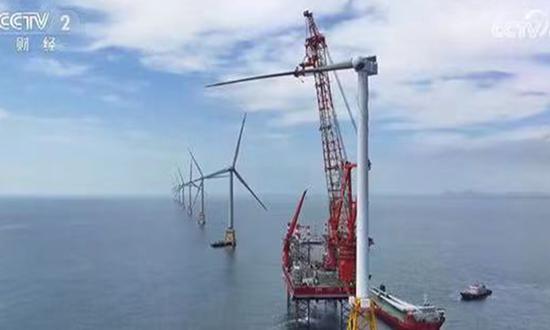 The world's first offshore wind turbine with an installed capacity of 16 megawatts completes the lifting of its first blade with a 123-meter-length in Pingtan, east China's Fujian Province, June 27, 2023. (Photo/CCTV)
The world's first offshore wind turbine with an installed capacity of 16 megawatts, located in Pingtan, East China's Fujian Province, completed the lifting of its first blade with a 123-meter-length on Tuesday. China owns 100 percent of the intellectual property rights of the product, China Media Group reported.
As the world's largest turbine, each revolution of the turbine can generate around 34 kilowatt-hours (kWh) of electricity, or 66 million kWh of clean electricity on average annually, which can meet the normal electricity consumption of 36,000 families for one year.
The new wind turbine represents China's world leading manufacturing and construction capability for wind power, Lin Boqiang, director of the China Center for Energy Economics Research at Xiamen University, told the Global Times on Tuesday.
China is promoting self-reliance and self-improvement in science and technology, seizing every opportunity to make breakthroughs in solving "bottleneck" problems, and striving to have the core technologies in its own hands, experts said.
For instance, the 123-meter-long blade represents the latest technological progress of China's offshore wind power equipment manufacturing. When the three blades are assembled, the entire impeller can reach 252 meters in diameter.
The blades adopted carbon fiber material which reduced the weight by 20 percent, and the use of the raw material has achieved 96 percent localization while the manufacturing technology has realized 100 percent independent intellectual property rights, said Yuan Yuan, an engineer involved with the blade construction.
Lin noted that China has achieved 100 percent localization in corresponding technology for blades in wind power, paving the way for China's clean energy technologies to enter the global market.
In addition to the wind turbine, the offshore wind power installation platform Baihetan also represents the nation's progress in the cutting-edge installation technology. It marks China's most advanced self-lifting and self-propelled integrated wind power installation platform, with a lifting capacity of 2,000 tons.
Experts highlighted the achievement as the latest results of the country's non-stop efforts to boost tech self-sufficiency.
For instance, China's first domestically built large cruise "Adora Magic City" undocked in Shanghai earlier in June, marking a major milestone in China's sci-tech development and high-end manufacturing following the maiden flight of China's home-made C919 passenger plane on May 28.
In March, China announced to restructure the Ministry of Science and Technology to better allocate resources to overcome challenges in key and core technologies, and move faster toward greater self-reliance in science and technology.
The restructured ministry will play a bigger role in improving a new system for mobilizing the nation to make technological breakthroughs, optimizing sci-tech innovation, facilitating application of sci-tech advances, and coordinating science and technology with economic and social development.