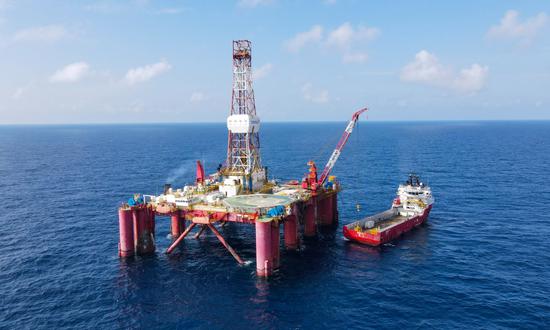 CNOOC's oil and gas extraction facility (Photo/CNOOC)
China's first self-developed subsea Xmas tree system has successfully been put into operation in the South China Sea on Tuesday, a key breakthrough in China's domestic technical equipment for deepwater oil and gas development, China National Offshore Oil Corporation (CNOOC) said on Tuesday.
The tree system is believed to be an important piece of equipment for offshore drilling and extraction. The equipment weighs 55 tons and consists of more than 2,500 parts. It performs the function of safely isolating oil reservoirs and ensuring the safety of underground operations.
According to the CNOOC the domestic equipment can be more cost-effective with its performance index reaching the same level of comparable foreign products.
For a long time, the design and construction technology has been the sole domain of five European and US companies, resulting in long procurement cycles, high prices, and maintenance difficulties.
Liu Shujie, chief engineer of CNOOC Hainan Branch, said that the use of domestic deepwater underwater Christmas trees saves about 27 percent of the cost compared to purchasing imported equipment, and the cost is expected to be further reduced after large-scale production.
Furthermore, the equipment can also boost the efficiency of some oil and gas reservoirs that previously had little economic benefit, which is of positive significance for driving the development of offshore oil and gas equipment related industries, Liu said.
The underwater Christmas tree must work stably for 20 years in a low-temperature and high-pressure environment with a seabed depth of more than 500 meters and a temperature of less than 6 C, placing extremely high demands on technology.
In order to ensure the reliability and functionality of the equipment, CNOOC carried out product performance tests such as pressure test, temperature cycle test, vibration test, as well as land integration test and sea trials according to the most stringent international standards. All of the tests have been passed and verified by authoritative third parties in the industry.
Wang Dongjin, chairman of CNOOC, said that the CNOOC technology research and development team will further accelerate the localization of deep-sea oil and gas underwater production systems, and promote the extensive usage of domestic equipment in the exploration and development of offshore oil and gas resources and provide reliable equipment to ensure the national energy security.