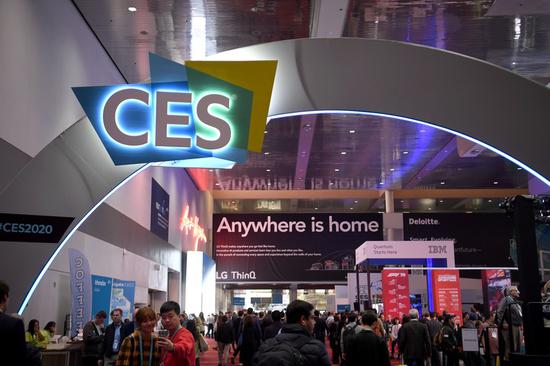 People visit the 2020 Consumer Electronics Show (CES) in Las Vegas, the United States, Jan. 9, 2020. (Xinhua/Wu Xiaoling)
The Consumer Electronics Show (CES), the world's most influential and largest annual technology event, will return to U.S. city of Las Vegas in 2022, the organizers announced Wednesday.
The U.S. Consumer Technology Association (CTA) revealed its plan to hold CES 2022 as a mix of in-person and digital events in Las Vegas between Jan. 5 and Jan. 8 next year. The trade show was forced to become an all-digital event in January this year due to the ongoing COVID-19 pandemic.
Some 1,000 companies have committed to showcasing their most innovative technologies in Las Vegas and companies are continuing to sign up, said the CTA in a press release Wednesday morning, adding that attendees can expect to see global brands including Amazon, AMD, AT&T, Daimler AG, Dell, Google, Hyundai, IBM, Intel, Lenovo, LG Electronics, Panasonic, Qualcomm, Samsung Electronics and Sony as well as startups from countries around the world.
"We're thrilled to return to Las Vegas - home to CES for more than 40 years - and look forward to seeing many new and returning faces," said Gary Shapiro, president and Chief executive officer of the CTA, in the release.
"Hundreds of executives have told us how much they need CES to meet new and existing customers, find partners, reach media and discover innovation," Shapiro noted.
"Our customers are enthusiastic about returning to a live event in Las Vegas," said Karen Chupka, executive vice president of CES.
"Global brands and startups have shared that plans are already well underway and are committed to sharing the magic of an in-person CES with even more people from around the world," she added.
The event organizers noted that they will be reviewing guidelines for COVID-19 safety measures from the Centers for Disease Control and Prevention, in addition to state and local guidelines.
CES 2020, which drew more than 170,000 attendees and 4,500 companies, took place in Las Vegas in January just before the outbreak of the COVID-19 pandemic in the United States. Chinese companies have become an important part of CES in recent years. Over 1,000 Chinese companies were listed on the 2020 CES exhibitor directory.
Even in the pandemic, China remained a top international market at the trade show, with many Chinese companies, including Hisense, Skyworth and VVFly Electronics, participating in this year's all-digital event to build their brand and forge global partnerships, Shapiro told Xinhua in a interview in January.
The CES 2021 featured more than 1,900 exhibitors, with 210 companies based in China, including 13 startups, according to Shapiro.
For more than 50 years, CES has been the global stage for innovation.
The first CES kicked off in 1967, with 250 exhibitors and 17,500 attendees in New York City. Since then, CES has grown by more than 10-fold and now encompasses both traditional and non-traditional tech industries.