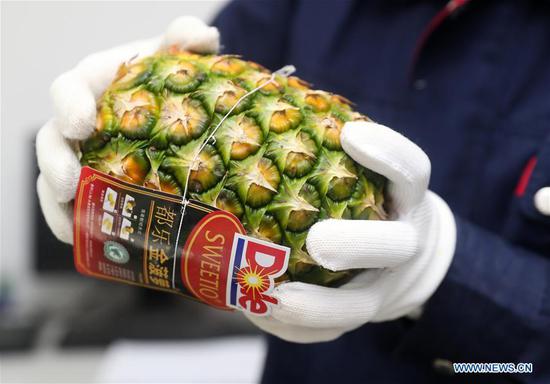 A worker checks the outlook of a pineapple at a distribution center of the Dole (Shanghai) Fruits and Vegetables Trading Co., LTD in Shanghai, east China, Oct. 28, 2019. The company is prepared to take part in the upcoming China International Import Expo (CIIE), which will run from Nov. 5-10 in Shanghai. (Xinhua/Ding Ting)
Special: The Second China International Import Expo
Dole Food Co, the world's largest fruit and vegetable company, has been in China for more than two decades, first as an exclusive dealer of Philippine bananas and gradually a producer, distributor and wholesaler of both fresh and processed fruit.
But it was not until after the first China International Import Expo (CIIE) last year that the California-headquartered company found its way to the central kitchens of the country's fast-rising tea chains and the canteens of domestic banks and institutions.
"The appeal (of CIIE) was beyond our expectations and the feedback was overwhelming. It has opened a brand-new world for our business," said Wang Na, brand director of Dole China, as the company prepares for the second expo, scheduled to open on Nov 5.
Within an exhibition space of around 200 square meters, the company showcased 27 types of fruits and vegetables from 12 countries last year, including South African grapefruit, Peruvian blueberries and Tongan pumpkins. As a result, it established connections or reached deals over the less-than-one-week event with more than 100 purchasers and companies.
Aside from supermarkets and restaurant chains, there are also companies such as Agricultural Bank of China and General Electric, which are looking to treat their employees with a healthier diet of work lunch, and Heytea and Nayuki's tea, the budding beverage chains that are competing with coffee giant Starbucks with fruit-fused tea drinks.
"It's not just about expanding business scope, but also improving and accelerating the procedures,"Wang added.
One month after the inaugural expo last year, for example, golden pineapple from Panama received permission to enter China. It arrived in Beijing in October with an initial shipment of 12.5 containers per week, and it is planned to double its export volume by 2020.
The U.S. company is not the only one benefiting from the unique advantages of the expo, which is the world's first import-themed national-level exhibition.
From life-saving cardiac pacemakers to life-changing foldable glasses, the expo has become a window from which Chinese consumers gain faster and easier access to the world's latest developments and technologies.
It also inspired companies and brands to facilitate business growth in more diversified and creative methods.
Stenders, a Latvian bath and bodycare brand, saw its sales rise by 25 percent after the expo last year. One of the key growth drivers comes from a partnership reached with energy and chemical giant Sinopec Corp, which decided to sell the brand's signature bath bubble balls at thousands of its gas stations.
Statistics showed that the first expo, which had more than 3,600 companies as exhibitors and 400,000 purchasers from both home and abroad, has helped to strike deals worth a total of $57.83 billion.