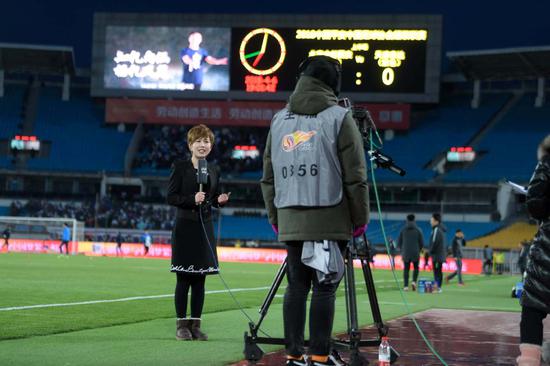 An anchor hosts a live broadcast of a soccer match between teams from Beijing and Tianjin, in Beijing in April 2018. [Photo provided to China Daily]
Zhang Hao, 34, is a fan of Bayern Munich soccer club and loves watching the Bundesliga, Germany's premier soccer competition, during weekends.
"In the past, I watched soccer matches on CCTV-5, China Central Television's sports channel, but now I have shifted to livestreaming sports platforms," said Zhang, an employee with a tech company in Beijing.
Zhang said CCTV lost the media rights to the Bundesliga last year, while PP Sports, a livestreaming platform under China's retailer Suning.com Co, has secured exclusive linear and digital rights to the league's fixtures broadcast on the Chinese mainland for the next five years, until the conclusion of the 2022-23 season.
"I need to pay 12 yuan ($1.7) for some high-profile competitions each time, such as Bayern Munich vs Dortmund, and I am considering purchasing a one-year membership."
Chinese livestreaming sports platforms are gearing up efforts to win the media rights of major sports events around the world.
PP Sports has acquired the broadcasting rights of some top soccer events around the world, including the English Premier League, Germany's Bundesliga, Italy's Serie A, France's Ligue 1, the Asian and European Champions League competitions, the Chinese Super League and the UEFA Europa League.
Sun Weimin, vice-chairman of Suning, said the company will continue to increase investments in the sports sector, with hopes of using high-quality content to attract more users.
In 2016, PP Sports obtained the exclusive broadcasting rights for EPL matches on the Chinese mainland and in Macao in a three-year deal starting from the 2019-20 season.
"In recent years, we have been studying our users, and it's obvious that sports have become a lifestyle," said Sun, noting the paying subscribers of PP Sports have exceeded 6 million.
"PP Sports can become the vehicle and medium to connect resources, commercialization and soccer together in one ecosystem. Commerce and soccer, this is Suning's real area of expertise," he said.
In the new season, PP Sports will provide fans in China with a live match broadcasting service, using special visual technology to create a unique match atmosphere, multi-angle replays and expert tactical analysis, bringing fans as close to the Premier League as possible.
The digital broadcaster is establishing news bureaus in London, Manchester and Liverpool, and will also use live broadcast, images and articles, short-form video, fan zones and offline events to provide supporters with a rich experience and content.
Moreover, Suning's other sports investments include a majority stake in the Italian soccer club Inter Milan and the ownership of Chinese Super League club Jiangsu Suning.
Wang Dong, executive vice-president of Suning Sports, said the company has already formulated an investment plan for the next five years, and will pour more money into signal transmission, studio production, and game watching experience.
It will first try 5G operation and strengthen the application of more cutting-edge technologies, such as big data analysis and augmented reality.
"There are more than 120 million soccer fans in China, and we hope to provide them with the best watching service and communication platform. This is why we choose to establish our advantage in the soccer sector," Wang said.
The number of paying subscribers is expected to surpass 10 million, and the livestreaming sports business will be monetized through revenues from paying subscribers and advertisements.
Wang said the company will also integrate online and offline sports retail, such as allowing online paying subscribers, mainly aged between 26 and 35, to enjoy better shopping experience at Suning's brick-and-mortar stores across the nation.
"In terms of sports intellectual property, we will make more homemade programs, and carry out cross-border cooperation with partners in the entertainment, music, and fashion sectors."
Wang said they will continue to strengthen copyright protection, and have formed an association with the country's intellectual property department and the judicial department to create a fair competition environment.
According to the latest data released by the General Administration of Sport of China and the National Bureau of Statistics, the sports industry is expected to hit 5 trillion yuan by 2025.
Chinese internet giant Tencent Holdings Ltd is also betting big on the sports livestreaming sector, as it announced last month a five-year expansion of its existing partnership with the National Basketball Association in China.
Last season, 490 million Chinese fans watched NBA programming on Tencent platforms, nearly three times the number for the 2014-15 season, according to the company.
Tencent, the digital media partner of the NBA in China since 2009, has streamed full seasons of live games and content to its hundreds of millions of daily users under a new contract partnership, which began in 2015.
The partners will also jointly manage and operate several other NBA services and activities in China, including NBA-themed mobile games, NBA social media accounts, and interactive fan events.
"Empowered by our technological capabilities, interactive platforms and content expertise, we will work closely with the NBA to further engage fans in China with sports excitement and technological innovations," said Tencent President Martin Lau in a statement.
"Young people are used to accessing external information via the internet. More and more video platforms have begun to pay attention to the field of sports, making the competition in the industry fiercer," said Qu Jing, an analyst at the Beijing-based consultancy Analysys.
Migu Co Ltd, a subsidiary of China Mobile that provides digital content products and services, has inked a strategic partnership with the Chinese Basketball Association to broadcast CBA games in the 2018-19 season and the 2019-20 season.
"We expect to further promote basketball and provide fans with immersive viewing experiences. In the future, we will beef up expansion of basketball games and more well-known sports," said Liu Xin, general manager of Migu.
Chinese audiences could watch livestreaming videos of CBA matches in 4K resolution, according to Migu.