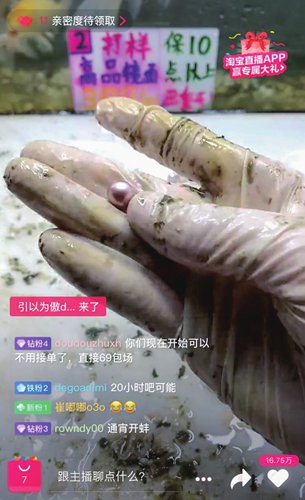 A livestreaming vlogger takes a pearl out of a mussel. (Photo: Du Qiongfang/GT)
After hearing about the popular Chinese male beauty vlogger Li Jiaqi screaming "oh my God," "so beautiful" and "buy it" in a new video, Wang Lin once again put the lipstick reviewed by Li into her shopping cart on Taobao, failing to resist the temptation of the vlogger's livestreaming promotion.
The livestreaming industry has been experiencing fierce competition since 2016 and a slew of small- and medium-sized livestreaming platforms withdrew from the market since 2017. With the bankruptcy of longzhu.com last year and the recent closure of Panda TV, many people think the livestreaming industry has been experiencing a hard time over the past two years.
However, while performance and video game livestreaming have lost momentum, e-commerce livestreaming is in the limelight at present.
Taobao started its trial of livestreaming three years ago. According to National Business Daily, Taobao Livestreaming created a new industry worth 100 billion yuan ($14.96 billion). Statistics show that sales revenues through Taobao Livestreaming reached 100 billion yuan in 2018.
A pearl business owner surnamed He from Shaoxing, East China's Zhejiang Province, has set up several livestreaming studios for her online shop on Taobao, selling pearls and pearl jewelry.
"We have been promoting our pearls through livestreaming broadcasts since last year. Compared with just posting some pictures on Taobao or the brick-and-mortar shops, livestreaming has brought much more profits," He told the Global Times.
According to He, before she set up livestreaming channels on Taobao, the monthly turnover of her business varied below 1 million yuan. But since she started livestreaming, her business turnover has reached millions of yuan every month.
According to He, who has been working in the pearl business for over 20 years, most of the people in her town make a living from the pearl business. She assumed that hundreds of her peers have set up livestreaming channels selling pearls on Taobao.
As one of the most successful vloggers on Taobao, Li Jiaqi of the post-90s generation reportedly earned more than 10 million yuan in 2017. During last year's Double 11 shopping spree, Li competed with Jack Ma Yun, founder and executive chairman of e-commerce giant Alibaba Group Holding Limited, on selling lipsticks. According to Chongqing Economic Times, Li sold 1,000 lipsticks in just two hours, while Ma only sold 10. His fans have given him the nickname "iron-lipped brother" because he can test as many as 380 lipsticks during one livestream, which lasts seven hours.
Before he became a Taobao vlogger, Li used to be a makeup counter intern. While turning from a salesperson with a monthly salary of 3,000 yuan into a beauty vlogger with a yearly income of over 10 million yuan, he has also helped cosmetics brands get huge profits through his daily live streams.
E-commerce livestreaming, especially Taobao Livestreaming, has cultivated a group of internet celebrity vloggers, such as Li. It has also attracted other livestreaming vloggers who used to register on performance and video game livestreaming platforms to transfer over to e-commerce platforms.
Meanwhile, there are more than 60,000 livestreaming broadcasts on Taobao every day. Among the numerous livestreaming vloggers, there are 81 vloggers whose broadcasts can create yearly turnover breaking 100 billion yuan. Their promotions of products include fashion, cosmetics, jewelry, maternity and children's products, bags and so on.
But even average vloggers can bring businesses considerable profits, thus many online shops hire or train their own livestreaming vloggers.
In one of He's livestreaming channels on Taobao, a vlogger opens freshwater mussels one after another and takes out their pearls. The pearls vary in their colors, sizes and shapes. It is one of the typical mussel-opening livestreams that have become quite popular in recent years. Customers can buy freshwater mussels from the online shop and the vlogger will open the mussels and take out the pearls for the customers on the spot. Then the shop will mail the pearls to the customers. The livestreaming vloggers were hired and received training at the company.
Dushikuaibao reported in 2017 that a 27-year-old woman surnamed Xu from Hangzhou was so addicted to watching livestreaming broadcasts of opening mussels that she spent 30,000 yuan buying mussels over the time span of three months.
At He's online shop, it costs customers 99 yuan to buy nine mussels or 190 yuan to buy 18 mussels.
"I think Ma Yun's idea is great. In the past, we had to wait for customers to come to our brick-and-mortar market. And the business information could not spread widely. Now, they don't have to come over and can just visit our online shop on Taobao and place orders. It is convenient for both the customers and the business," said He, whose customers come from home and abroad, including overseas countries such as Italy and France.
Wen Zhong, general manager of Taobao's E-commerce Content Division, stated at the Taobao Livestreaming Gala on March 30 that after three years of exploration, livestreaming has become a standard rather than an optional promotion method of e-commerce. He also announced Taobao Livestreaming's plan this year of setting up 200 livestreaming studios with sales revenue of over 100 million yuan.
During the Taobao Livestreaming Gala, Wen also outlined the company's ambitious "village broadcasting plan" which promises to train 1,000 vloggers who are expected to earn a monthly income of more than 10,000 yuan in 100 Chinese counties, promoting local agricultural products.
According to National Business Daily, Taobao Livestreaming held over 150,000 broadcasts of agricultural products over the past year. More than 400 million viewers watched the livestreaming broadcasts. During last year's Double 12 shopping spree, quality agricultural products from 28 impoverished counties from across the country were promoted by Taobao livestreaming vloggers, which opened up new markets for agricultural products in poor areas.