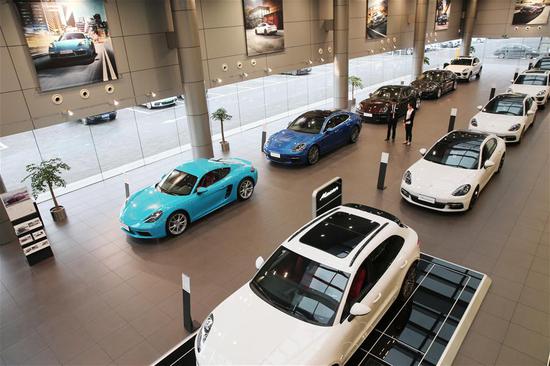 Photo taken on May 22, 2018 shows an import vehicle exhibition hall in Nantong, east China's Jiangsu Province. (Xinhua/Xu Congjun)
China will cut import tariffs on vehicles and auto parts starting July 1, the Ministry of Finance announced Tuesday.
For car imports, the 25-percent tariff levied on 135 items and the 20-percent duty on four items will both be slashed to 15 percent.
Import tariffs for 79 items of auto parts will be reduced to 6 percent from the current levels of 8 percent, 10 percent, 15 percent, 20 percent, and 25 percent.
"China safeguards a multilateral trade system. Lowering auto import tariffs is a major step to expand reform and opening-up," the MOF said.
After the cut, the average tariff on vehicles will stand at 13.8 percent, and 6 percent on parts. The new rates are "in line with the reality of the auto industry," the ministry said.
China has 178 tariff items of vehicles in total, with an average tariff rate of 21.5 percent currently. It has 97 items for auto parts, with an average duty of 10.2 percent.
After the tariff cut, China's vehicle import duties will be lower than the average for developing countries.
Take passenger vehicles with nine or fewer seats as an example, the tariff will be reduced to 15 percent, compared with 9.8 percent in the European Union, 8 percent in the Republic of Korea, 60 percent in India and 35 percent in Brazil.
"Whether China will continue to cut auto import tariffs depends on the competitiveness and development of the auto industry," said the ministry.
Cutting auto import tariffs to this degree will help supply-side structural reform and the upgrade of the auto industry, bringing greater quality and efficiency, according to the ministry.
It will also enrich the domestic market and meet the demand for more, affordable consumer experiences. Lower duties will increase demand and bring vitality to the economy.
"By cutting these tariffs, many positive effects will be felt in the global economy," said Liu Shangxi, head of the Chinese Academy of Fiscal Sciences.
The cuts are important for trade liberalization, according to Li Xuhong, a researcher with Beijing National Accounting Institute.
Global auto companies will become more active in the Chinese market, and through trade and investment, China could become one of the world's most competitive auto markets, according to experts.
"The tariff cut will undoubtedly bring more pressure to bear on Chinese brands, but China will not waver in continuing its opening-up policy," said Dong Yang, deputy head of the China Association of Automobile Manufacturers (CAAM).
Dong said domestic auto makers will accelerate transformation and upgrading and grow to grapple with the competition.
"For Chinese consumers, the tariff cuts bring vehicles and services at lower prices," said Xu Haidong, secretary general of the CAAM.
The tariff cut is aimed at increasing competition in the industry to improve its quality and efficiency, and bring car prices down.
However, stressing that tariffs are only one of the factors in car pricing, the ministry said "whether and by how much prices go down are market phenomena."
With lower tariffs, the value-added taxes and consumption taxes on auto imports will decrease accordingly.
In 2017, China produced more than 29 million vehicles and sold 28.88 million, up 3.2 percent and 3 percent respectively, according to the CAAM.
China has remained to be the world's largest auto market in terms of production and sale for nine years. The country imported over 1.2 million vehicles last year.