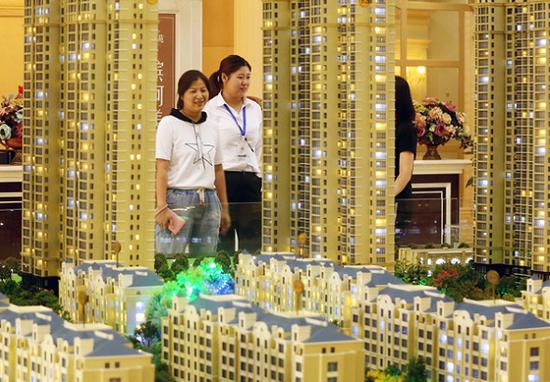 A saleswoman (center) talks with customers at a real estate sales office in Huai'an, East China's Jiangsu province. (Photo: Zhou Changguo/China News Service)
The Chinese real estate industry will see an accelerated M&A till 2020 since property operators are finding more difficulty in financing due to monetary contraction, industry experts said.
It is becoming more and more difficult for middle and small-sized real estate developers to raise funds, so that many of them have to rely on equity financing," said Feng Jian, deputy general manager of Orient Bangxin Financial Property Investment Co Ltd, at a recent forum by Eh-thinktank in Beijing.
"At the same time, bigger companies, with lower asset-liability ratio, may have more cash flow to ease the tension," he said.
According to Cai Jinqiang, managing director of Citibank, the Chinese real estate industry began to quicken the pace for merger and acquisition in 2016, and the trend will continue till 2020.
For property companies, the most traditional way of financing is from bank loans. However, with a tightened amount of currency in circulation, such companies may feel more stress in financing with a smaller supply of credit and an increase of interest rates, industrial insiders said.
Liang Wanchan, assistant president of listed property enterprise Redco Group, said their company did feel more pressure when seeking financing recently.
"Since the whole financing channel and methods were changed, raising money became a challenge for financing staff, both physically and mentally," Liang said.
She added they began to negotiate with financial institutions at the early stage of new projects, while also turning to equity cooperation and regional strategic cooperation.
Wang Qiang, vice-president of domestic real estate company Moma, agreed with Liang's assessment that financing is more difficult.
"The cost is rising and speed is dropping," he said. "But it doesn't mean commercial real estate loans are not available. For example, asset-backed securities are still encouraged. Social capital also is an important source of funds."
"Real estate companies need to improve capability of assets operation to attract investors," he added.