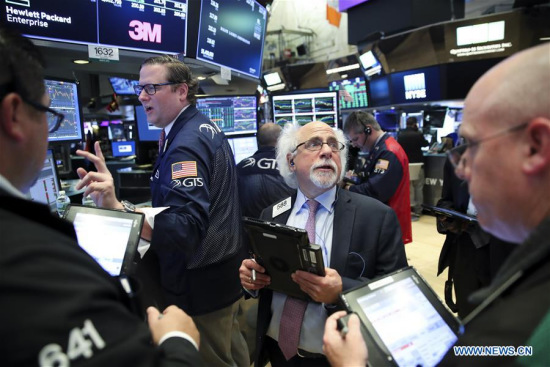 Traders work at the New York Stock Exchange in New York, the United States, on May 21, 2018. U.S. stocks closed higher on Monday. (Xinhua/Wang Ying)
U.S. stocks closed higher on Monday as easing U.S.-China trade tensions fueled optimism in the market.
The Dow rose 1.21 percent to 25,013.29, and the S&P 500 rose 0.74 percent to 2,733.01, while the Nasdaq increased 0.54 percent to 7,394.04.
China and the United States issued a joint statement over the weekend, vowing not to launch a trade war against each other.
U.S. Treasury Secretary Steven Mnuchin said on Sunday that the United States and China have reached a deal on a "very important" framework concerning their economic and trade ties, and the two sides have agreed to put a possible trade war on hold.
He added that the two sides will continue with their communications on trade issues.
Analysts noted that easing U.S.-China trade tensions will likely help chipmakers' stocks the most.
Meanwhile, the strong dollar is a stock-market drag and may pose a threat to earnings growth, experts said.
On the economic front, led by improvements in production-related indicators, the Chicago Fed National Activity Index rose from 0.32 in March to 0.34 in April, beating market consensus.