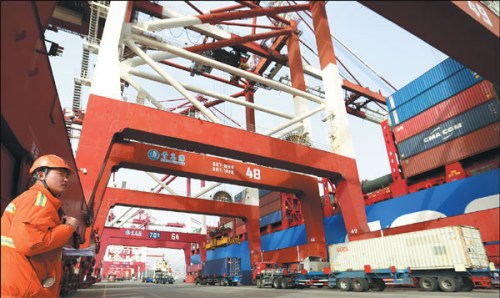 An employee oversees loading of cargo bound for the United States at Qingdao Port in Shandong Province. (Photo by Zhang Jingang/For China Daily)
Increasing imports and promoting trade balance are two goals China has been insisting on in recent years, Zhang Yuyan, director of the Institute of World Economics and Politics under the Chinese Academy of Social Sciences, said in an article published by Economic Daily.
One of China's four major measures to pursue further opening announced by President Xi Jinping at the annual conference of the Boao Forum for Asia held in April is expanding imports, Zhang said.
In addition, the Government Work Report this year also said China will take active measures to increase imports.
Zhang said at the current stage, the importance of expanding imports can be seen from the following four aspects.
First, expanding imports is an important way to satisfy people's needs for a life of high quality.
Domestic demand is the basic motivating factor behind China's economic development and to meet people's ever-growing needs for a better life is the fundamental driving force for the economic and social development of China in the new era, he said.
Currently, the principal contradiction of Chinese society has evolved to be that between "unbalanced and inadequate development and the people's ever-growing needs for a better life".
And one of the signs is that the supply of goods and services is difficult to meet people's needs of consumption upgrading, according to Zhang.
He said as the level of Chinese people's income rises, the consumption structure has upgraded and their demand for the diversity and quality of products and services is getting higher and higher, which can be regarded as a historical process implying China's economy is shifting to a high quality development stage.
In this process, Chinese tourists' "explosive buying" overseas has become a typical phenomenon showing the domestic market is unable to full satisfy people's demand for high quality goods and services. And taking active measures to expand the import of high quality goods and services will effectively meet the people's high demand for high quality life, Zhang added.
Second, the expansion of imports is a necessary requirement for the optimization and upgrading of China's industrial structure.
On the one hand, it can directly drive the transformation and upgrading of domestic industries and enhance international competitiveness through the technology spillovers and demonstration effects of imported goods. On the other hand, the prosperity comes from competition. As the expansion of imports will inevitably bring competitive pressure to domestic corresponding enterprises, the pressure could be a motive force for them to enhance the quality and efficiency of products and services, and develop new products and services, said Zhang.
Third, expanding imports is an inevitable requirement to promote the balanced development of foreign trade, Zhang said.
China does not seek trade surplus and has a genuine desire to increase import and achieve greater balance of international payments under the current account, President Xi Jinping said in his speech at the Boao Forum for Asia this year.
In the new stage of development, it is a general trend for China to reduce trade surplus and gradually realize trade balance. And increasing the imports of high quality products and services is an important and effective way to achieve a balanced development of foreign trade, according to Zhang.
Fourth, expanding imports shows China's responsibility.
As the world's second-largest economy, China's consumer market has great potential and broad prospects. For the countries that provide exports, the increase in China's imports means that their exports will increase, so that they can gain more market returns, create more jobs and increase income, Zhang said.
China's total imports of goods and services accounted for 9.7 percent of the world's import market in 2016, increasing from 8.4 percent in 2011, according to the World Bank. The expansion of China's import demand will make greater contributions to the prosperity of international trade and effectively promote the rebalancing of the world economy, Zhang added.
The door of China's opening up will not close but open wider. It is the general trend that the world will fall in love with "made in China," share the opportunities of China and enter the Chinese market, Zhang said.
In addition, the opening up of China also has its own propositions, demands, rhythm and adherence. The country should work hard to further optimize the business environment, improve the institutional mechanism, guarantee intellectual property rights and improve the level of trade facilitation to promote the construction of itself as trade power and make foreign trade make greater contributions to its economy and social development, Zhang said.