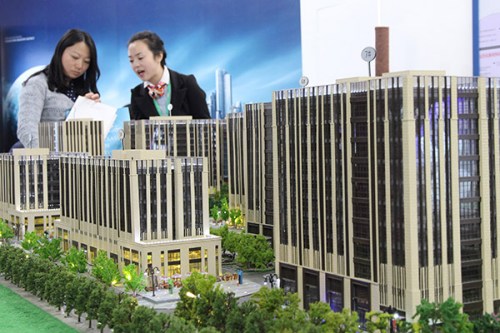 A salesperson presents a housing project at a real property exhibition in Beijing. (Photo provided to China Daily)
The Chinese government reiterated the need for tight control over the property market, proposing six concrete measures to ensure housing is for living in rather than speculation, Securities Times reported Monday.
The Ministry of Housing and Urban-Rural Development urged first- and second-tier cities to make and implement the Five Year Housing Development Plan from 2018 to 2022 by the end of this year.
The ministry also urged local governments to speed up adjusting the structure of housing and land supply by increasing proportion of housing land in popular cities and substantially increasing the rental housing and common property housing land supply.
Local governments should also take concrete measures to strengthen control of capital markets, property markets, guide public opinion and manage responsibility, according to a notice by the ministry.
The policy, following official meetings of 12 local governments on housing price controls, was released because housing prices have been increasing at a relatively high rate in some cities and the market has not cooled down since the beginning of this year, said Yang Hongxu, deputy director of E-House China, a real estate services provider.
This is the second time the Chinese government has emphasized the goal to regulate the property sector remains unflinching and controls will not be relaxed, after officials from the Ministry of Housing and Urban-Rural Development held meetings with governors in Chengdu and Taiyuan earlier this month.
It is also the fourth time for the Chinese government to declare its resolute determination to the control of property market since the start of 2018.
Data from the National Bureau of Statistics shows on a yearly basis new residential housing prices in China's first-tier cities declined 0.4 percentage points more in April compared with a 0.6 percent drop in March, new home price growth in second-tier cities was even with the March level, and those in third-tier cities saw year-on-year growth 0.3 percentage points lower than a month ago.