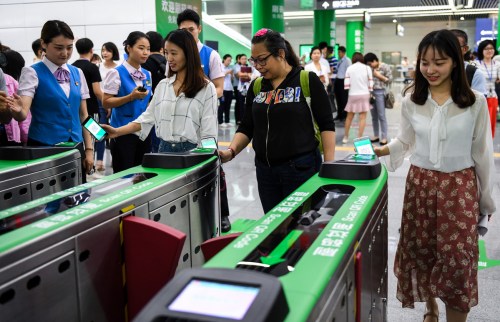 Passengers scan QR codes on their smartphone screens to pay for their subway train ride in Shenzhen, in southern Guangdong province, on May 8, the day when mobile payments were expanded to cover the entire subway network. (Photo/Xinhua)
China's mobile payment operators are entering the public transportation sphere with ambitious promotions for their new e-products that promise to change commuters' age-old ways of paying for their city rides, experts said.
On May 8, Chinese internet giant Tencent introduced its electronic payment product on Shenzhen subway. The product is expected to cover all subway train stations in the city this year.
Ant Financial, an affiliate of Hangzhou-based tech titan Alibaba, announced last month that its Alipay has entered local bus networks in 50 domestic cities. This service would reach 100 cities this year, including third- and fourth-tier cities.
JDPay, developed by e-commerce retailer JD, recently gave deep discounts to people in Mianyang, Sichuan province, and Xiangtan, Hunan province, for using its product. A passenger can take a local bus ride by paying only 0.01 yuan (0.15 cents) twice a day.
UnionPay also put forward a similar 0.01 yuan program in Jinan, Shandong province, and in Inner Mongolia region.
Public transportation is a field where frequency of usage and user stickiness are high although each individual payment may be relatively low, Pony Ma, chairman and CEO of Tencent, said.
"It's like a battlefield that each (mobile payment) participant has to scramble for," said Wang Pengbo, an analyst with consultancy Analysys. "Though it is not necessarily profitable, the massive user base it may offer suggests great business potential."
Agreed Liu Xinhai, a researcher of intelligent finance at Peking University. "Those internet companies can learn better about the habits and preferences of customers by recording data on their usage of public transportation, to expand services in consumer finance," Liu told Yicai Media.
Wang said the fact is people use buses or subways more frequently than online shopping or car-hailing. And the traditional card or cash payment is not as convenient as electronic payments.
"Problems may occur such as lacking small change or having to wait in a long queue."
A Shanghai commuter told Yicai that the experience of using mobile payments for subway ride payments has been good. "I was on the phone when walking through the security scanner. I merely had to scan my phone on the machine and I could pass through. There wasn't any need to interrupt the call," she said.
Wang said mobile payments for city rides on public transport systems will become a trend, but traditional methods will co-exist, because it takes time for customers to change their habits. "Mobile payment companies have pushed their e-products hard through promotions like deep discounts," he said.
In the field of public transportation, chip-embedded cards and cash payments have been used for up to 30 years, with a fixed standard of service and division of profit. This means, mobile payments herald not only use of new technologies but industry cooperation, according to Alipay.
Challenges still remain in payment upgrades as it involves negotiation with local governments that usually control local transport systems, industry insiders said.