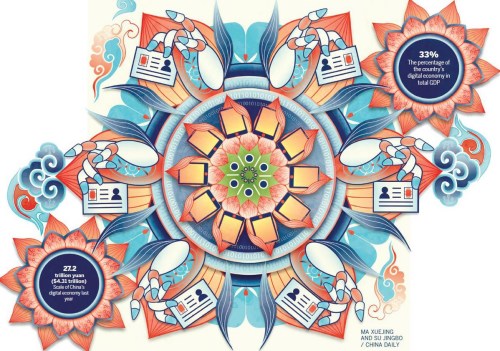 Online, connected and integrated-economic sectors, several industries, emerging fields ride the technology wave
In the "new era", digital economy, or D-economy, with Chinese characteristics is becoming an integral part of real economy, potentially emerging a role model for the rest of the world.
Perhaps, nothing exemplifies this trend more than the advent of the "digital identity" (D-ID for short, or virtual ID) for citizens.
The D-ID promises to rationalize existing multiple IDs-passport, social security card, library card, local transport card, what have you.
What's more, the day when the D-ID can incorporate all of them on a single chip-based card, or even in a quick-response or QR code, may not be far off, industry experts said.
First things first.
Digital economy refers to the use of the internet, and technologies like cloud computing, big data and artificial intelligence in a variety of industries and sectors to drive economic growth in the digital era.
That era went futuristic in the city of Fuzhou in eastern Fujian province now, as the local government unveiled a D-ID system.
The chip-based D-ID enables citizens to establish or authenticate their identity through a unique smartphone-based QR code that can be scanned.
"China has arrived at a turning point in the 'new era' where citizens not only live in a physical world but have a digital life. Everyone can be a 'digital citizen'," said Wang Jing, CEO of Newland Hi-Tech Group Co Ltd, a Chinese wireless telecommunication technology company that developed the Fuzhou D-ID system.
"Unlike the common QR code, advanced technologies have been applied to this system to ensure it can't be copied or tampered. The system has been divided into several zones and all data is encrypted for privacy and security. Only certain terminals (workstations) at administrative authorities can read the data," she said.
D-ID is just one shining example of how digital economy is adding value to real economy in China.
"Digital economy is driven by deep integration of the next generation of information and telecom technologies with real economy. It's not only an important part of building a 'smart society' but a key driver of a digitalized, internet-enabled and artificial intelligence-powered society," said Chen Zhaoxiong, vice-minister with the Ministry of Industry and Information Technology.
Small wonder, China has made the development of digital economy a top priority. The government has launched many initiatives in the past few years toward that end. These include "Internet Plus", "Made in China 2025", further promotion of deep integration of the internet, cloud computing, big data and AI with the real economy, and building the country into a cyber-power.
The strong impetus led to a boom in China's digital economy.
Latest data from the China Academy of Information and Communications Technology showed that the scale of the country's digital economy hit 27.2 trillion yuan ($4.31 trillion) last year, accounting for almost 33 percent of the nation's GDP (which was 82 trillion yuan in 2017, up 6.9 percent year-on-year).
The ongoing process is seeing major internet players striving to reshape people's livelihoods. They are revamping the physical consumption experience and innovating the manufacturing sector using novel technologies.
For instance, Meituan-Dianping, China's largest provider of on-demand online services spanning food delivery, hotel bookings, travel, entertainment ticketing, is integrating big data, artificial intelligence and cloud computing. This integrated platform offers people all-in-one life experiences.
People can find nearby restaurants, reserve hotels, order take-outs, book a film ticket, all with a tap on a smartphone screen. The company also entered the ride-hailing sector recently to link dining with transportation where users can directly book a taxi where they reserved a restaurant table for lunch/dinner.
"The ultimate test for digital economy's effectiveness is whether or not it is serving ordinary people's life needs. We hope to serve a total of 1 billion people each day through technological innovations. We would like to help people to 'eat better, live better'," said Wang Xing, chairman and CEO of Meituan-Dianping.
With 320 million active users using its platforms and more than 4 million merchants listed on it, the Beijing-based company said it will start trial operations of its driverless delivery vehicles this year. It will also promote the service on a large scale in 2019 to make the dream of 24-hour delivery a reality.
Not just the services sector, even the manufacturing sector has been benefitting from the rise of D-economy.
New technologies and initiatives such as "Made in China 2025" have helped upgrade China's manufacturing sector.
Major cloud operators including China Aerospace Science and Industry Corp and Sany Heavy Industry Co Ltd are building industrial internet platforms. The larger goal is to set up a network of combined, advanced machines with internet-connected sensors and big-data analytics. Such a network will help companies to bolster productivity, efficiency and reliability of industrial production.
China Aerospace Science and Industry Corp, for instance, has offered enterprises cloud-based technology and products on its industrial internet platform since 2015. Earlier data showed that its platform had attracted almost 800,000 registered enterprises, including more than 3,000 foreign companies.
Digital economy has brought in its wake not just huge opportunities but humongous challenges and potential risks as well.
"In recent years, underhand data transactions have been rampant. An array of problems including data leakage, cyber-attacks and safety leaks such as Meltdown and Spectre have occurred, which have brought new challenges," said Zhang Wang, deputy director of the CAC, also known as the Cyberspace Administration of China.
Faced with such challenges, the country is expected to accelerate steps toward legislation for promotion and regulation of digital economy, to create a fair, orderly, innovative and fair market environment, Zhang said.
He noted that China should strengthen information safety on key infrastructure, personal data privacy and intellectual property. Accelerated efforts are also needed to introduce related policies on data commercialization and standards on internet technologies.
"In the future, we need to insist on opening-up to bolster cooperation and promote globalization of our enterprises in the information and communications technology (or ICT) sector," Zhang said.