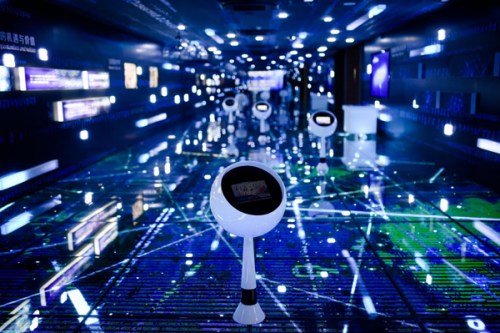 A "time tunnel" effect is displayed at Guizhou province's big data demonstration center in Guiyang. (Photo/Xinhua)
Guizhou province-oh, what a transformation it has witnessed! Technology can truly transform an economy in a short time indeed.
There was a time when the southwestern province evoked mental images of a remote, less-developed area-home to verdant mountains, ethnic minorities, and, wait for it, poverty. Not any more.
I first set foot in Guizhou's capital city Guiyang last May to cover the 2017 China International Big Data Expo.
When I was there, I did find verdant mountains and ethnic minorities in local media images and stories. And I also found something extremely amazing: home-grown high-tech that strengthens businesses and government services alike.
A wide range of digital technologies are applied in the province. Not only in the business sector but in the emerging e-governance sector and civil services.
I learn the advent of the high-tech sector is benefiting both the local government and the common people.
For instance, during the big data expo last year, Alibaba Cloud, the cloud computing arm of internet behemoth Alibaba Group Holding Ltd, unveiled a plan to set up, in association with the Guiyang Municipal Public Security Bureau, a joint block data center and a cloud platform project.
The twin projects will offer more robust computing power and smarter artificial intelligence algorithms, which will be used to improve a variety of public- and private-sector services.
For instance, with the help of cloud computing and artificial intelligence technologies, cars featuring fake licenses will be identified automatically, according to the Guiyang Municipal Public Security Bureau.
In 2016, with the use of big data analysis, crimes like burglaries and robberies in Guiyang dropped by almost 6 percent.
Li Zaiyong, a member of the Standing Committee of the CPC Guizhou Provincial Committee and the secretary of the CPC Guiyang Municipal Committee, said during the first Digital China Summit held in Fuzhou in April, that buoyed by the booming big data industry, Guizhou has maintained its position among the top three provinces for five consecutive years to 2017, in terms of economic growth.
The province recorded double-digit (10.1 percent) growth year-on-year in the first quarter, latest data showed.
"During the recent years, we have geared up to push the integration of big data and the real economy for governmental, commercial and civilian use," Li said.
It appears the approach is paying off. Based in Guiyang, Laoganma, China's best-known hot sauce producer, uses big data to analyze consumers' different needs, forecast sales and rationally manage the inventory, helping improve the industrial capacity as well as production efficiency.
Coming in more than 20 flavors or varieties, Laoganma chili sauce is exported to over 80 countries and regions. In 2016, the company reported an annual revenue of 4.55 billion yuan ($718 million).
Just as what former Chinese Vice-Premier Ma Kai said during the Guiyang expo, big data will play a significant role in boosting the local economy and driving the manufacturing upgrade.
Guizhou could well prove to be the best example of how to apply digital technologies to a wide range of economic activities and governmental and private-sector services.
The province has become key to the task of transforming China's western parts, whose economic growth is heavily reliant on traditional sectors.
According to a new report released by the Tencent Research Institute, a private-sector think tank and market analytics provider, digital economy accounted for 32 percent of China's gross domestic product in 2017 ($82 trillion, up 6.9 percent year-on-year) and remained an important pivot for the country's economic growth.