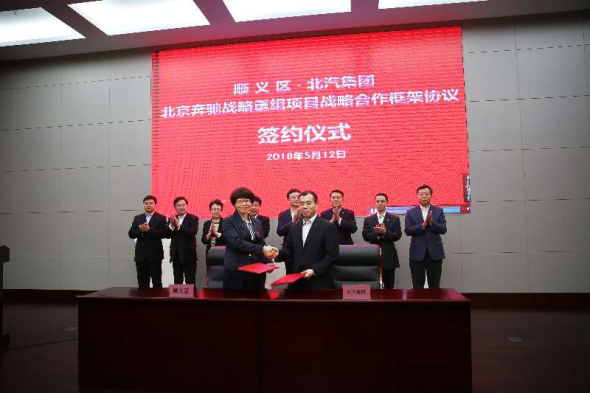 An agreement to build a high-end new energy Mercedes-Benz vehicle production base was signed in Beijing, on May 12, 2018. (Photo provided to chinadaily.com.cn)
Beijing Automotive Group Co and Beijing Shunyi district signed an agreement to build a high-end new energy Mercedes-Benz vehicle production base with the most advanced production standards in the world on May 12.
With total investment of 11.9 billion yuan ($1.88 billion), the project will make full use of BAIC's current base in Shunyi district with the addition of upgrades.
According to the company, during the first phase of the project it plans to produce 150,000 vehicles annually, with the first batch expected to roll off the production line by the end of 2019. The first phase is expected to achieve annual output value of 50 billion yuan and tax revenue of 7 billion yuan.
In future, the annual productivity will expand to 300,000 vehicles, on the basis of the development demands, according to BAIC.
The production line will be 90 percent automated and will manufacture a series of new pure electric high-end models.
The project will also promote the transformation of traditional warehousing logistics, with the building of an intelligent, automated and integrated component distribution platform.
Shunyi district is accelerating the construction of its innovative industry clusters and its national 2025 demonstration zone, focusing on the development of intelligent new energy vehicles, third generation semiconductors and aerospace.
Beijing Benz Automotive Co, BAIC's subsidiary, is a leading high-end passenger car provider in China, and its latest project corresponds with the development direction of Beijing high-end industry.
Officials of Shunyi said that the project is an important move for the district's construction of the capital's national technological innovative center, which will accelerate the automobile industry's transformation and upgrading.
According to Shunyi district, its intelligent new energy vehicle industry will achieve a gross industrial output value of 150 billion yuan by 2025.
The district will become an ecological industry demonstration zone for intelligent new energy vehicles with advanced innovative technology, complete with supporting facilities and leading demonstration application by then, said local officials.