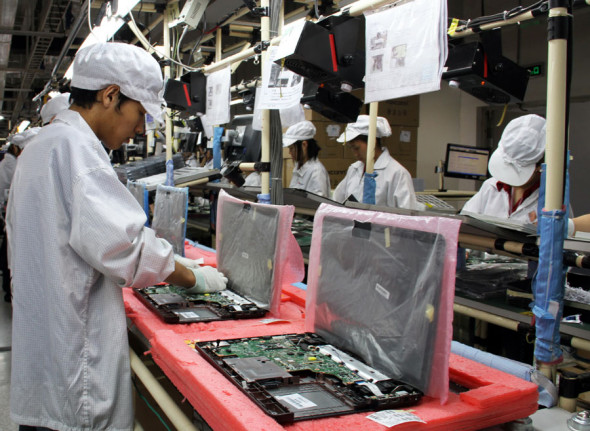 Foxconn employees assemble laptops at a facility in Chongqing. (Photo provided to China Daily)
Funds to help firm build 5G solutions, set up industrial internet platform
Foxconn Industrial Internet Co Ltd, a subsidiary of Foxconn Technology Group, filed an application on Monday to list on the Shanghai Stock Exchange to raise capital to build an industrial internet platform, and to upgrade its intelligent manufacturing and 5G solutions.
The company plans to issue up to 1.97 billion A-shares, which will account for 10 percent of its total shares after the issue, at a price yet to be determined, the preliminary prospectus showed. There will be no transfer of old shares at the IPO.
According to the prospectus, the Foxconn unit plans to use the proceeds to fund eight projects totaling 27.3 billion yuan ($4.3 billion), in the industrial internet, cloud computing, data centers, communication networks, 5G, the internet of things, intelligent manufacturing and industry upgrades.
"Foxconn is not just a con-tract manufacturer of electronic devices, but is also engaged in the design and production of some precision elements in the supply chain sector, as well as accumulated experience and strength in intelligent manufacturing," said James Yan, research director at Counterpoint Technology Market Research.
Yan added the application of the industrial internet will enhance Foxconn's intelligent manufacturing capacity, reduce its costs and improve its operating efficiency.
In 2017, Foxconn Industrial Internet posted revenue of 354 billion yuan and net profit of 15.9 billion yuan, rising from 273 billion yuan and 14.4 billion yuan in 2016, respectively. It projected net income to rise 0.9 percent to 5.1 percent in the January to June period.
The unit's major clients include Amazon.com Inc, Apple Inc, Dell Inc, Huawei Technologies Co Ltd and Lenovo Group Ltd.
The application date for online and offline purchases will be May 24 and the result will be announced on May 28. China International Capital Corp Ltd is the sponsor of the IPO.
The Foxconn unit on Friday night received an official IPO approval document from the China Securities Regulatory Commission, which said in a statement that Foxconn and its underwriters will confirm the dates and publish the prospectus following discussion with the Shanghai Stock Exchange.
The company received the regulatory go-ahead for the planned IPO on March 8. The company submitted its draft prospectus on Feb 1. Eight days later, the CSRC sent its feedback on the prospectus and on Feb 11 the company submitted a revised version.
The CSRC is reportedly planning a "green channel" for unicorn companies - startups worth $1 billion - in industries such as biosciences, cloud computing, artificial intelligence and advanced manufacturing. Normally, it could take months or even years for companies to obtain the official green light for IPOs, industry insiders said.