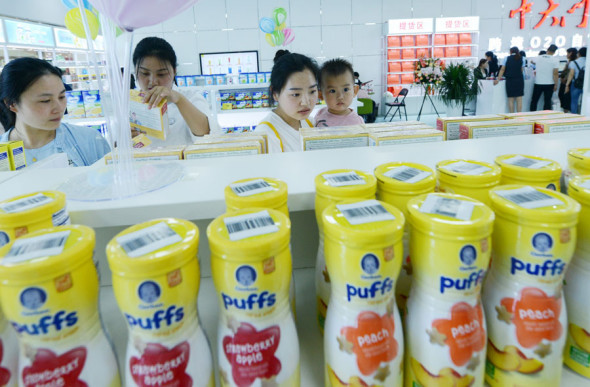 Customers pick imported milk powder cans at an e-trade expo. (Photo by Zhang Tao/For China Daily)
With increasing overseas brand penetration and an ongoing online shopping boom, cross-border e-commerce has surged over the past few years and is assuming an increasing role in China's total import and export market.
According to data released by online e-commerce research center 100ec.cn, China's cross-border e-commerce trade reached a market size of 3.6 trillion yuan ($568 billion) in the first half of 2017, up 30.7 percent year-on-year. The number will hit 9 trillion yuan in 2018, and 12 trillion yuan in 2020, according to iimedia.cn.
"Cross-border e-commerce brings innovation to China's online retail," said Feng Gengzhong, dean of The School of Management at Xi'an Jiaotong University at a panel discussion during The Third Silk Road International Exposition and the Investment and Trade Forum for Cooperation between East and West China.
Up until 2017, active users of Alibaba Group Holding Ltd and JD, China's top two e-commerce platforms, saw a less than 30 percent annual growth rate. Cross-border e-commerce, however, now enjoys an annual growth rate of more than 50 percent for both imports and exports.
"The Chinese government is carrying out a series of policies to foster a better business environment for cross-border e-commerce trade," Feng added.
The first cross-border e-commerce pilot zone was set up in Hangzhou in 2015 and the policy was expanded to 12 more cities in 2016.
"Many good practices have been promoted," said Feng, "such as the development of online comprehensive service platforms in support of a more efficient logistics experience for business owners."
The platforms incorporate customs clearance, tax refunds and logistics. Total cross-border e-commerce trade in the 13 pilot zones reached 163.7 billion yuan in 2016, up more than 100 percent year-on-year, according to Xinhua News Agency.
Later in 2017, the Shaanxi pilot free trade zone and six other such zones were officially listed, and an "N+1" development strategy was introduced.
"The N+1 strategy encourages multi-industrial development through e-commerce platforms," Feng said. He added that rapidly growing cross-border e-commerce will bring in more business opportunities to industries and prompt industrial restructuring.
Shaanxi province's total exports and imports reached a combined 271.49 billion yuan in 2017, up 37.4 percent year-on-year. It was ranked second nationwide for export growth rate.
"Our strengths, which are traditional industries like agriculture, still have room for development," Feng said. "It is also true with other fields like high-end manufacturing and pharmaceuticals."
According to Feng, electric appliances accounted for 86.8 percent of Shaanxi's total e-commerce trade in 2017, up 64.9 percent, while agricultural exports only enjoyed a growth rate of 18.6 percent.
Shaanxi, located in Northwest China, has enjoyed an increasingly important presence on the world stage as an information and logistics hub since the implementation of the Belt and Road Initiative, which calls for global trade and cooperation.
"A more efficient logistics network is also essential, given rapidly evolving customer expectations in the e-commerce trade," Feng said.
Starting from 2015, China's central and local governments carried out a series of policies to encourage an upgrade to the logistics industry, including an adaptation of unmanned aerial vehicles, or drones, and big data.
According to Sun Guiyu, vice-president of JD Logistics, e-commerce giant JD is now ramping up its logistics investment in digitalized systems and warehouses. Earlier in May, JD bought a 10 percent stake in China Logistics Property Holdings Co Ltd.
"A cross-channel logistics network covering road, water, rail and air is essential to boost cross-border e-commerce," said Tan Xiaoping, director of the business development and management department at Sinotrains & CSC Holdings Co Ltd.
Feng said, however, that currently there is an imbalance in logistics development among regions, and the industry is in need of more trained professionals.