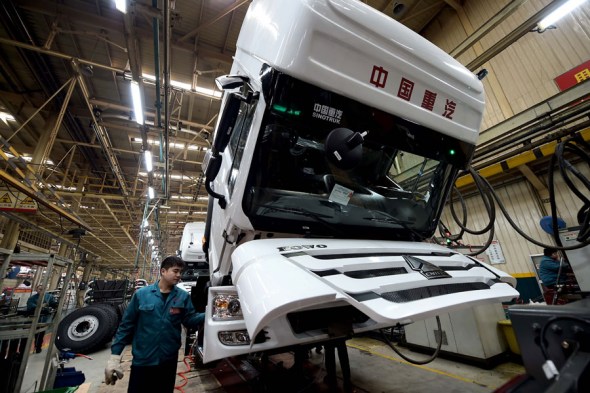 A staff member works at the Sinotruck production line in Jinan, Shandong province. The company is one of the country's first heavy vehicle manufacturers to tap the overseas markets. (Photo by Guo Xulei/Xinhua)
Chinese truck manufacturer's tailor-made solutions give it edge abroad
China National Heavy Duty Truck Group Corp is betting big on the overseas market, with the expectation that half of its total sales will come from outside of China by 2020, according to the company.
The Shandong province-based manufacturer, also known as Sinotruk, sold 33,700 heavy trucks overseas in 2017, some 11 percent of its total sales for the year.
Thanks to rising demand in Africa and countries involved in the Belt and Road Initiative, it had received orders of 19,356 heavy trucks in the first quarter this year, an increase of nearly 19 percent year-on-year.
"This is a good start, and we are optimistic about our sales goal of 40,000 units this year," said Yang Zhengxu, president of Sinotruk International, a subsidiary dedicated to its overseas operations.
Sinotruk was one of China's first heavy vehicle manufacturers to begin exploring overseas markets.
"We made it a corporate strategy to go global as early as 2004, and we have been China's largest heavy truck exporter for 13 years in a row, totaling more than 300,000 units," Yang said.
Sinotruk has offices in some 70 countries and is selling its trucks to around 110 countries and regions.
To better meet local demands, it has also built 15 assembly plants in nine countries, including the Philippines, Nigeria, Ethiopia and Vietnam to offer tailor-made models.
"Every market has its own features, so it is almost a one-size-for-one approach," Yang said.
In the Philippines, the company has been producing lighter vehicles to suit the local market demand. This is just one of many examples of how the company is customizing its products to suit different markets across the globe, said Yang. Besides offering products tailored to specific markets, Sinotruk is diversifying its marketing efforts to get better established overseas.
The company is also providing comprehensive solutions such as car financing and building its own sales networks to prevent an overreliance on local partners. While consolidating its position in Africa and Southeast Asia, Sinotruk is making forays into developed countries, including Ireland, Australia and New Zealand.
Lan Junjie, general manager of the manufacturer's international department, said Sinotruk has set a firm goal to increase its presence in developed countries in the future.
"In five to 10 years, we hope that we can compete with rivals like Volvo or Man, technologically," Lan said.
Sinotruk has invested heavily in research and development. In China, it has a technological center that according to Dong Yang, executive vice-president of the China Association of Automobile Manufacturers, is the best he has ever seen.
Besides traditional models, Lan added that Sinotruk has been following the latest trends in the sector, including new energy vehicles, connectivity and autonomous driving.
The company is also preparing to establish research and development facilities overseas.
In 2017, Sinotruk acquired a stake in an electric motor maker in Denver, the United States, and the two sides are in discussions to set up a research center dedicated to studies on new energy vehicles, Lan said.