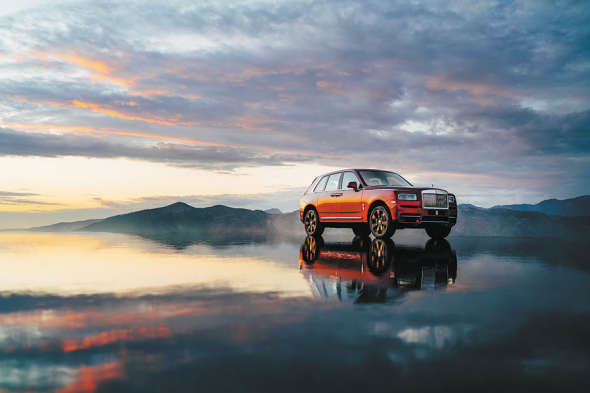 The Cullinan is seen as an attempt by Rolls-Royce to increase its profits by entering the super-luxury SUV segment. (Photo/China Daily)
British super-luxury car brand Rolls-Royce is dipping its toe into the booming sport utility vehicle market.
The model is called Cullinan, which also happens to be the name of the largest gem-quality diamond ever found, and it was unveiled on Thursday to the world's largest auto market.
Orders are now being taken for the million-yuan Cullinan, which comes with highly bespoke services for exclusive individuality.
"We are setting a new standard by creating a new class of motoring and motor car for customers who are well-connected, highly mobile and have a global perspective," said Peter Schwarzenbauer, chairman of Rolls-Royce and a member of the board of the BMW AG.
Rolls-Royce Motor Cars found its customers expect to go everywhere in luxury, effortlessly and without compromise, conquering the most challenging terrain to enjoy life's most enriching experiences, according to the company.
"Our customers' sense of adventure and daring demands a 'go-anywhere in ultimate luxury' motor car that will both take them to and meet them at the pinnacle of life. Cullinan is that motor-car," he said. Torsten Mueller-Oetvoes, CEO of Rolls-Royce Motor Cars, said the new model is "incomparable and dramatically evolves the parameters of super-luxury travel, translating Rolls-Royce's ethos of 'effortlessness' into physical capability, anywhere in the world. Cullinan will simply take the world in its stride."
The automaker says it built this new model on its latest "Architecture of Luxury", referring to an all-aluminum space-frame architecture designed for small-volume manufacture that will underpin every future Rolls-Royce beginning with the new Phantom, which was launched on the market in the second half of last year.
The Cullinan is seen as an attempt by Rolls-Royce to increase its profits by entering the super-luxury SUV segment.
The model makes it only the third of its kind in the segment, after Bentley Bentayga and Lamborghini Urus, according to an analyst at a major securities firm. Since Bentley started delivering Bentayga in 2016, the Chinese luxury SUV market has been turning that potential into purchases.
Mueller-Oetvoes said, "Our customers will buy all of the cars they like, and pay in cash most of the time."