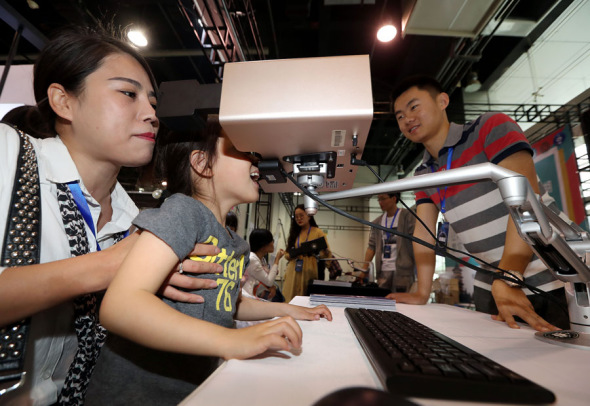 A mom helps her daughter watch a short film on a multi-sensory viewer that can emit aromas, scents and smells related to the content, at the 2018 High-tech Unicorn Enterprise Exhibition held in Hangzhou, Zhejiang province, on April 29. Products like high-tech video viewers distinguish China's unicorns. (Photo by Lin Yunlong/For China Daily)
Revised regulations favor funding for startups through equity investments
Chinese investors are betting big on a golden decade for unicorns as a boom is foreseen on the back of revised regulations that encourage financing through equity, according to market players.
A unicorn is a startup that proves successful and enjoys a valuation of $1 billion or more.
In recent years, unicorns have been highly regarded by the Chinese capital market as policymakers appear to approve such startups' listing on domestic stock exchanges.
Such listings would herald a break from recent investment patterns.
China has witnessed two waves of investment in the past 20 years. One targeted foreign trade and the other property. This also resulted in debt expansion and fast growth of money supply.
"Chinese investors are considering to shift their investment philosophy and focus more on high-tech and innovative companies, corresponding to the country's high-quality development blueprint," said Hu Tianxiang, founder of Shanghai SuXiang Investment Consulting Co Ltd, an investment consulting and asset management company.
Unicorns, which are mainly concentrated in high-tech or emerging strategic areas like internet-based businesses, big data, cloud computing, artificial intelligence, software and integrated circuits, "are expected to attract more funding through direct equity investment", Hu said.
Li Yang, director of the National Institute for Finance and Development, which is part of the Chinese Academy of Social Sciences, called the coming decade as a "golden period" for equity investment in China. Policymakers are keen on restructuring the multi-level capital market and encouraging direct financing instead of bank lending, he said.
Equity investment, including private equity and venture capital, is a major way to raise funds for unicorns and support their public listings.
The country also announced a pilot program on March 30 to support innovative companies' domestic listings and issuance of Chinese Depositary Receipts or CDRs, a form of equity that will allow Chinese investors to gain exposure to foreign-listed shares.
Unicorns, especially tech startups, have fewer opportunities to raise funds domestically so tend to list overseas, due to existing legal and technical barriers to listing on the A-share market, including restrictions on weighted voting rights, or dual-class shares, and mandatory requirements like IPO applicants' profitability.
That is also one of the reasons why China's capital market has been dominated by traditional industries such as property development, finance and industrial materials.
According to the country's top securities watchdog, the China Securities Regulatory Commission, the CDR pilot program will apply to overseas-listed firms that operate the Chinese mainland with a markete capitalization of no less than 200 billion yuan ($31.7 billion).
"China is creating mega unicorns at a fast pace, and some of the leading companies are now as big as comparable US firms. For example, Tencent is as big as Facebook," said Harry Man, a partner and founding member of Matrix Partners China, a venture capital company founded in 2008.
According to Matrix data, the total market capitalization of China-based large-cap technology companies, which form a large part of the Chinese unicorn universe, has reached $1.94 trillion by the end of 2017, compared with $23 billion a decade ago.
The venture capital company has invested in 35 unicorns in China, and 27 of them have made IPOs. Matrix is now running four US dollar-denominated funds and six yuan-denominated funds, with total assets under management worth more than 20 billion yuan.