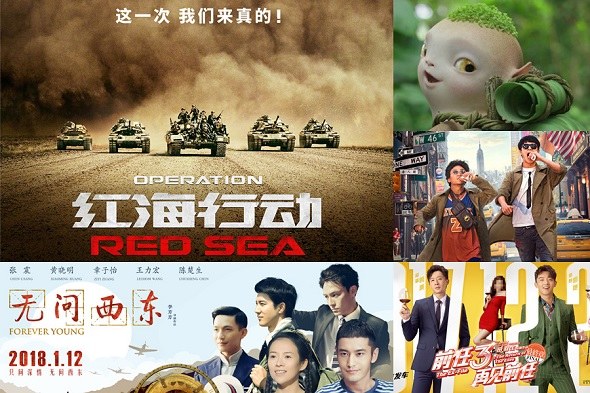 Chinese movies have achieved huge success in box office in the first quarter of 2018. (Photo/Mtime)
For the first time ever, China's quarterly box office performance outshone its North American counterpart, topping the global film market.
According to People's Daily, China boasted over 20.22 billion yuan ($31.76 billion) in box office receipts in the first quarter of this year, with a box office figure of only $28.9 billion in the North American film market.
Among the chart of 10 highest-grossing films during this period, seven domestic films made the list, with only two Hollywood blockbusters — Black Panther and Jumanji: Welcome to the Jungle — ranking eighth and tenth respectively.
Chinese anti-terrorism action film Operation Red Sea topped the chart, raking in over 36.1 billion yuan at the box office. It has become the second-highest-grossing Chinese film ever, according to Maoyan, a major Chinese film database and ticketing platform.
In addition to Operation Red Sea, Detective Chinatown 2, Monster Hunt 2, The Ex-File: The Return of the Exes and Forever Young all contributed a great deal to this season's Chinese box office power.