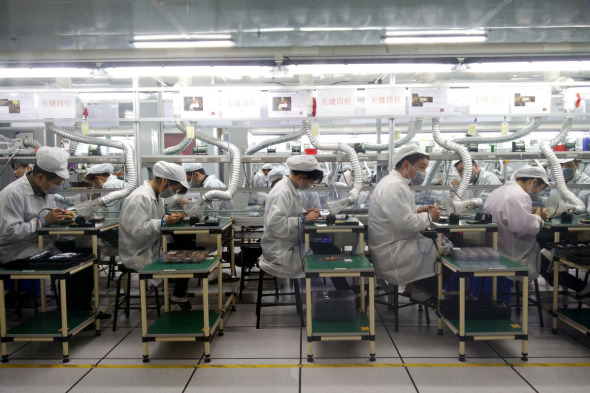 Employees of Foxconn Technology Group work at a production line of the company in Zhengzhou, capital of Henan province. (Photo provided to China Daily)
Foxconn Technology Group is reportedly ramping up efforts to develop its thriving semiconductor business, but industry insiders say it may still be difficult for the electronics manufacturing giant to enter the chip design sector.
The company has established a semiconductor subgroup, which is studying the feasibility of building two 12-inch wafer plants, according to a report from Digi-Times, a daily newspaper for the semiconductor and electronics sectors.
Foxconn's chipmaking related affiliates, including Foxsemicon Integrated Technology, Shunsin Technology and Fitipower Integrated Technology, have already gone into operation under the semiconductor subgroup, industry sources said.
The semiconductor subgroup is currently led by Young Liu, who also serves as a director of Sharp Corp's board. Foxconn declined to comment on market and media rumors.
As the world's largest contract electronics manufacturer and a main assembler of Apple Inc's iPhone, Foxconn is looking to step into wafer fabrication. It previously failed in its bid to acquire Japanese conglomerate Toshiba Corp's flash memory chip business, but the group has not given up on its semiconductor ambitions, the sources noted.
"Foxconn has accumulated experience and strength in the assembly and manufacturing of electronic components and sophisticated instruments. Meanwhile, the semiconductor sector has a strong relevance with Foxconn's previous businesses," said James Yan, research director at Counterpoint Technology Market Research.
However, the company may encounter some difficulties in the chip design field, Yan noted, adding that the easiest method is to acquire some semiconductor companies. "Its bargaining power will obviously increase if it successfully taps into the semiconductor design and manufacturing sector."
Foxconn already has plants for semiconductor equipment, packaging and testing and integrated circuit drivers.
Wu Lianfeng, vice-president of market research company IDC China, said Foxconn has a layout in the whole industrial chain of the electronics devices and components production, and enough capital to attract talent into the wafer manufacturing.
The company is expanding its product portfolio, including televisions, smartphones and other high-tech hardware devices, as well as putting more efforts into artificial intelligence.