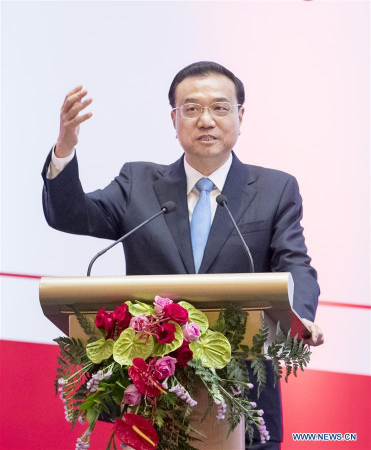 Chinese Premier Li Keqiang addresses the China-Indonesia Business Summit in Jakarta, Indonesia, May 7, 2018. (Xinhua/Wang Ye)
Chinese Premier Li Keqiang reaffirmed China's commitment to economic globalization and free trade while addressing the China-Indonesia Business Summit here on Monday.
"Both China and Indonesia believe in economic globalization and free trade. We both support the rules-based multilateral trading system and stand for equal consultation in settling trade disputes," Li said at the summit that was also attended by Indonesian Vice President Jusuf Kalla.
China highly values its relations with Indonesia, a major developing country and an emerging market economy carrying significant weight in the world, Li told more than 600 business people attending the summit.
During Chinese President Xi Jinping's visit to Indonesia in 2013, the two sides charted a course for the development of bilateral relations, which have embarked on a fast lane of growth, Li said. "Business cooperation has been the most vibrant and productive component of overall relations."
He proposed closer cooperation in such fields as investment, industrial capacity, trade and people-to-people exchanges.
Li expressed China's willingness to forge greater synergy between the Belt and Road Initiative and Indonesia's vision as a global maritime fulcrum.
China will support Chinese companies in participating in the development of Indonesia's regional comprehensive economic corridors, encourage Chinese enterprises to support Indonesia's infrastructure improvement and explore cooperation in ports, maritime economy, industrial processing and overseas warehouses, Li said, adding that Indonesia is also welcome to open an investment promotion center in China.
He also elaborated on China's stance on trade and investment liberalization and facilitation.
"China is ready to buy more competitive goods from Indonesia," he said. "The two sides have also agreed to boost cross-border e-commerce to facilitate the cooperation between small and medium-sized enterprises."
On people-to-people exchanges, Li said China is committed to extensive exchanges and cooperation with Indonesia on education, culture, tourism, media and sports.
The two sides have agreed to deepen tourism cooperation, open more direct flights and work toward the goal of three million mutual visits annually.
Noting that China had made concentrated efforts to promote the supply-side structural reform, innovate and improve macro-control, as well as nurture new driving forces for growth under the complex domestic and international circumstances, Li said that the Chinese economy has achieved stable and sound development in recent years.
Currently, the contribution rate of new development momentum to economic growth exceeded 30 percent, and that to new employment reached about 70 percent, Li said.
He said since the beginning of this year, the Chinese economy had continued its steady development and made a good start.
China has confidence and capabilities to maintain a medium-high growth rate and achieve high-quality development in the long term, he added.
This year marks the 40th anniversary of China's reform and opening up. Li stressed that China will open a new course of reform and opening up, adding that there is no end to the reform.
Noting that expanding opening up is an independent and inevitable choice for China, Li said China will open up to a higher level and achieve mutual benefits and win-win results to a deeper level. "A more open and prosperous China will offer more opportunities to the development of Indonesia and other countries."
For his part, Kalla said the convening of the China-Indonesia Business Summit demonstrated the strong confidence of both countries' business leaders in bilateral economic and trade development.
China is welcome to expand investment in Indonesia, increase two-way exports, and join Indonesia in building regional comprehensive economic corridors, Kalla said, adding that he hoped the two countries could deepen cooperation on tourism, digital economy, manufacturing, energy, environment, and infrastructure.
The governments of the two countries will also formulate policies to create a better environment for investment and business operation, Kalla said.