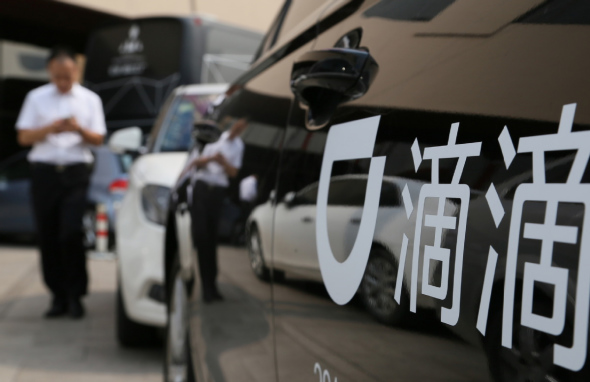 China's ride-hailing giant Didi Chuxing is in talks with Volkswagen AG to explore mobility projects such as smart city tech and autonomous driving. (Photo by Wu Changqing/For China Daily)
As the nature of transport evolves, traditional auto manufacturers are keeping pace
Carmakers are jumping on the mobility services bandwagon in China, which is a strategic step as ride-hailing and car-sharing threaten traditional sales and also an expedient to sell their locally made electric cars, according to industry analysts.
Ford announced Wednesday that it is to build a 50-50 joint venture with Chinese carmaker Zotye to provide smart, customized all-electric vehicles to fleet operators and drivers in China's fast-growing ride-hailing market.
The $20 million joint venture, which will be located in Zhejiang province, will initially focus on the ride-hailing market in Zhejiang, with plans to expand it to other areas.
The US carmaker said many operators in China's ride-hailing market are looking to expand their fleets with electric vehicles. Citing statistics from Boston Consulting Group, it said the "e-hailing" market in China is expected to grow by 19 percent annually through 2022, with an overall fleet size potentially reaching up to 26 million.
Ford has long vowed to turn itself from a car manufacturer and seller into a mobility provider and to build smart cars.
"This takes us one step further to offering smart services, connected electric vehicles and data-driven solutions to make China's urban centers cleaner and journeys more efficient and enjoyable," said Ford Vice-President Peter Fleet.
Ford is not alone. Volkswagen AG, the world's largest carmaker by sales, said it is joining hands with car rental company Shouqi to expand into ride-hailing, a car-sharing partnership and revolutionary last-mile mobility for everyone in every situation.
The German carmaker is also "entering the first phase of a partnership by exploring mobility projects as well as smart city, autonomous driving and robo-taxi projects" with China's ride-hailing giant Didi Chuxing, said Volkswagen's China chief Jochem Heizmann during the recent Beijing auto show.
A Didi spokesperson told the Wall Street Journal that the two will focus on building a fleet operation business, and look into other potential areas such as designing new car models for ride-hailing.
Volkswagen said it will invest 15 billion euros ($18.3 billion) in China by 2022 in e-mobility, autonomous driving, digitalization and new mobility services.
According to Volkswagen AG CEO Herbert Diess, the company will start the local production of electric cars in at least six factories by 2021.
In the next seven to eight years, Volkswagen will offer 40 new energy vehicle models produced in China, and it has set a goal to sell around 400,000 such cars a year by 2020, a fifth of the country's target for the year.
Volkswagen's ambitious goal is based on China's market size and, more urgently, to meet China's demand that carmakers must sell a certain number of new energy cars from the next year, according to analysts.
Carmakers will need to amass credits for new energy vehicles equivalent to 10 percent of annual sales by 2019, according to the Ministry of Industry and Information Technology.
That level would rise to 12 percent by 2020.
"Partnering with local companies like Didi is offering solutions, while allowing those carmakers to make their strategic moves in mobility," said Yale Zhang, managing director of Shanghai-based consultancy Automotive Foresight.
Volkswagen will provide around 100,000 vehicles, plus electric and autonomous vehicle technology, and manage the fleet of vehicles, as a first step in the joint venture with Didi, according to the Wall Street Journal.
Volkswagen's car-sharing venture with State-owned Shouqi, has ordered 7,000 electric cars from the carmaker's electric car venture with China's JAC Motors, although its first car will not roll off the assembly line later this year.
Ford said its new joint venture "will work closely with the Zotye-Ford manufacturing joint venture", which will build a range of affordable all-electric vehicles for consumers in China under a new indigenous brand.
"You can bet that more such partnerships (between carmakers and mobility companies) will emerge as things evolve," Zhang said.